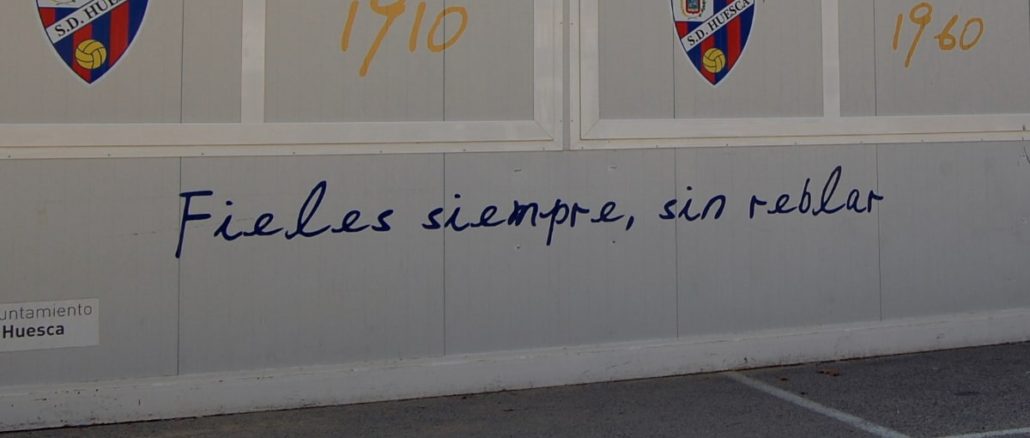 18 matchdays into the 2020-21 LaLiga season, Huesca find themselves rock bottom of the pile, six points away from safety, and with only one win to their name. They were dumped out of the Copa del Rey by third-tier Alcoyano and finally, last Monday's defeat to Real Betis cemented the board's decision to sack manager Míchel.
In July, Miguel Ángel Sánchez Muñoz 'Míchel' won Huesca their second promotion to LaLiga, personally also his second promotion as he led Rayo Vallecano to the top flight in 2018 as well. He suffered a similar fate with the Madrilenian side, being dismissed in March 2019 with Rayo sitting six points off safety.
Now, Míchel is an astute manager for the Segunda División as proved by his two titles in the two full seasons he has been in-charge in the league. But LaLiga is a whole different ball game and he has failed in it twice now.
Pacheta
To play this ball game, Huesca have turned to Juan José Rojo Martín 'Pacheta'. In terms of top flight experience, the man from Burgos is much worse off than Míchel. His only LaLiga stint came 11 years ago with Numancia when he took charge for the final 14 matches of the 2008-09 season. The side from Soria picked up four wins during his tenure but eventually ended up getting relegated.
But that's not why Huesca have roped in Pacheta. It's his exploits at Elche that have made him a very attractive managerial signing. Taking a club from the Segunda B to the Primera is no mean feat. And doing so in only three years is almost unthinkable, especially when you consider Elche had one of the lowest budgets across the entire second division. After a dramatic play-off final win over Girona in August, Elche joined Huesca in winning promotion from the Segunda.
SMFC would like to congratulate former coach and friend of the club Pacheta on steering Elche CF to an incredible promotion to La Liga overnight.

Pacheta spent time coaching in our youth team academy during the 2015 season, alongside current coach and friend Estaban Quintas. pic.twitter.com/PFTRTbwCmm

— South Melbourne FC (@smfc) August 24, 2020
Shockingly, only two days after the historic promotion, Elche announced that Pacheta would not continue at the Martínez Valero. The news came like a bolt from the blue, and without any reasons for the departure. The club statement simply mentioned that Elche and the manager will "separate their paths". It referred to the conclusion of Pacheta's tenure as "the end of a glorious cycle".
"A meteoric rise of a coach, who is already a part of the club's golden history. Pacheta's legacy will always be remembered." It was an emotional farewell by Los Franjiverdes to a man who achieved so much in so little time. It was tough to digest that there would be someone other than Pacheta in the dugout when Elche played their first LaLiga game after five rollercoaster years.
On the Valencian Community Day, the city of Elche awarded him the silver medal of the Bimillennial of Elche, one of the most prestigious civil distinctions granted by the city. Pacheta is already a club legend in the hearts of the people of the city. And he became so in less than three years, at a 97-year-old club.
Who would have thought that now out of all clubs, he would land at Huesca, to battle against Elche in avoiding the drop from the Primera?
Huesca's 2020/21 Story so Far
Just like two years ago in their maiden LaLiga campaign, Huesca were once again one of the relegation favourites at the start of this season. Their performances at times however, have told a different story.
As per Understat, Huesca have a negative difference of 5.87 between expected points (xPTS) and actual points, meaning they are actually performing better on the pitch than what the table might say. Their tally of 12 points in 18 matches is inferior to the 17.87 xPTS they have accumulated so far. No other team in LaLiga has a worse difference between xPTS and actual points than the Azulgranas. But survival in the league is not based on how many expected goals and points you have and how many chances you create in matches. It comes down to what you convert.
Let's rewind to the start of the season. Míchel's side only lost one of their first six matches and snatched points off high-profile names like Villarreal, Valencia and Atlético. But only turning up against the big guns, and coming up short against fellow relegation battlers has hurt Huesca.
After encouraging performances in the first few matches, you would expect them to build from there. With the kind of football Míchel's men were playing, many thought it would only be a matter of time before they got their first win. But meetings with the likes of Elche, Eibar, Real Valladolid and Osasuna resulted in drab draws. In October, Huesca let in four goals each against Real Sociedad and Real Madrid in back to back matches. At times they have conceded late goals, as in a 1-0 home loss to Sevilla but more inexplicably, a week later in Granada, they let the hosts claw back from two goals down in the last five minutes and ended up sharing the spoils yet again.
FT GRANADA 3-3 HUESCA

A cracker at Los Cármenes and heartbreak for Huesca.

The visitors were 3-1 up with 87 minutes on the clock, chasing their first win of the season. However late goals from Jorge Molina and Germán Sánchez deny Huesca that elusive victory.#GranadaHuesca

— LaLiga Expert (@LigaExpert) December 6, 2020
The draws were getting really damaging for Huesca. There was real desperation for a taste of victory. It may be argued that in that desperation, Míchel drifted away from the encouraging brand of football his side played in the opening weeks. Maybe if he had stuck to his tactics, the results would have come sooner rather than later. It was unsettling to see Huesca at the bottom of the table, not just for their fans, but for the followers of the league in general as well. Because let's be honest, Huesca have a better-built squad and have showcased better football than a handful of other teams in the bottom half of LaLiga.
Eventually, the first win arrived on matchday 13 in December against Deportivo Alavés. A second half strike from Javi Ontiveros at El Alcoraz sealed the three points. The win brought a great deal of confidence in a frustrating season, but once again, the Azulgranas couldn't build from there.
In fact, things quickly headed downhill. Huesca have gained only one point in five matches since beating Alavés and scored only twice. There was no respite in the Copa del Rey either, as they struggled to overcome fourth-tier Marchamalo and were then upset by Segunda B side Alcoyano in the second round.
This poor run of results in the past few weeks was the ultimate reason for the sacking of Míchel. The Azulgranas might not have looked like a team belonging to the drop zone a month ago, but they sure do look like one now. Huesca now rank the worst team, both home and away in the league. Only five goals have been scored at El Alcoraz.
It's one of the smallest stadiums across the top two divisions of Spain, but fans are still greatly being missed. Last season, Huesca were the best team at home in the Segunda with 15 wins in 21 matches. Even Pacheta, in his first press conference as a Huesca boss, referred to the visit to El Alcoraz as the toughest trip for his Elche side last season.
Squad
Before the start of the season, Huesca looked better prepared for LaLiga than they were two years ago. Their squad seemed well-equipped to avoid the drop and certainly better than the other newly promoted sides, Elche and Cádiz.
The Azulgranas have a number of players with prior LaLiga experience. Eight players have over 100 top-flight matches to their name. Elche have three such players and Cádiz only two. Yet things have not clicked for Huesca. Or when they have, the results haven't been there.
Huesca made two solid summer signings in defender Dimitrios Siovas and midfielder Borja García but there still exist issues in defence and midfield. They have struggled to form a permanent centre-back pairing between Siovas and Jorge Pulido, or Pablo Insua.
There are some talented players in the wide positions. At left-back, Javi Galán has set the bar really high with his exceptional work. And so, new signing Gastón Silva hasn't had any chance to break into the first team. Young and promising right-back Pablo Maffeo was signed on loan but injuries have limited him to feature in only nine matches so far. The other right-back is Pedro López who obviously cannot be asked to perform week in and week out at 37 years of age.
Huesca's wings have been largely out of balance. With young and fast players like Javi Ontiveros and Javi Galán on the left wing but veterans like Pedro López and David Ferreiro on the right, the attack pace varies significantly. According to whoscored, 45% of Huesca's attacks are built from the left side compared to only 33% on the right.
Looking at the midfield, Pedro Mosquera has clocked the most minutes for Huesca this season and Borja García has been an impactful attacking midfielder. But Mikel Rico at 36 isn't getting any younger. They lack depth in the middle of the park and fringe players like Jaime Seoane, Kelechi Nwakali, Eugeni Valderrama and Idrissa Doumbia haven't looked as if they can be relied upon too much. The Azulgranas will want to bolster their midfield in the January transfer window if possible.
? Primer entrenamiento en el Pirámide a las órdenes de Pacheta.

¡Vamos, equipo! ¡Sin reblar!

???? pic.twitter.com/UEkbQLVG3b

— SD Huesca (@SDHuesca) January 14, 2021
Up front, Huesca possess a fairly formidable attacking force, at least for a team in their position. On loan from English side Wolves, Rafa Mir is the top scorer so far with three goals, including important ones in the comebacks against Real Valladolid and Eibar. Former Barcelona striker Sandro Ramírez's season has been marred by injuries until now but has done well whenever he's been fit. He has two goals and an assist in eight appearances. Villarreal loanee Javi Ontiveros took some time to get going at El Alcoraz but has now settled in and is arguably the most dangerous player in the final third.
Huesca have an experienced campaigner in 34-year-old Shinji Okazaki who top scored for them last season with 12 goals. On loan from Dortmund, 20-year-old Sergio Gómez found it a bit tough to get regular game time under Míchel but has impressed with his cameo appearances off the bench. Another forward not used too much by Míchel was Dani Escriche. Pacheta will be reunited with the 22-year-old who spent last season on loan under him at Elche, chipping in with three goals.
With a frontline on par with a lot of mid-table LaLiga teams, it really is difficult to understand how Huesca have scored just 14 goals so far. And in the last five games under Míchel, they only managed two. This is something Pacheta will want to address immediately.
What does Pacheta bring?
Pacheta's first press conference at El Alcoraz was interesting, to say the least. It was like listening to a half-time team talk. Full of energy and motivation. He looked totally unfazed by the giant task on his hands. The task of keeping this tiny Aragonese club in the top division of Spanish football. "I believe in this team, I believe in this project and I believe in this club" were his words. "I don't understand football without passion."
Passion and hope were his most repeated words. He wouldn't look past one game at a time. He wouldn't even look at the league table. Next game is against Getafe? So all focus on Getafe. Then Villarreal. So on and so forth.
So what does Pacheta bring? He brings a lot of energy and a positive mentality to the camp. And after the season Huesca have had so far, that's really something they need at the moment. He is the kind of manager who can bring the best out of his players. Certainly, nobody backed Elche to rise to the Primera with that squad. He has already won over a lot of Huesca fans with the promising first impression he made in the presser last week. You couldn't see a man who hasn't been in a LaLiga dugout for more than a decade. He's confident and absolutely raring to go at El Alcoraz.
Pacheta has been presented as @SDHuesca's new coach ?️?

? "I believe in this team, I believe in this project and I believe in this club".

After performing miracles at Elche, can he keep Huesca up this season?#LLL
???⚽️ pic.twitter.com/G9tIzTa3zI

— La Liga Lowdown ???⚽️ (@LaLigaLowdown) January 14, 2021
So, any hope?
In each of the last five seasons of LaLiga, the team at the bottom of the standings after 18 matchdays, nearly halfway through the league, has been relegated. One of them was Huesca themselves in 2018/19 and so far they have been down the same path this season.
They only have one more point than two years ago at this stage. The only side this century to avoid relegation having fewer points than Huesca (12) by matchday 18 was Real Zaragoza (11) in 2012. And never has a team in a 38-match season survived in LaLiga with only one win at this point.
So we get the picture. Huesca really have their backs against the wall here and we'll have to witness something tremendous and extraordinary if they are to continue living the LaLiga dream. Their new manager is no stranger to extraordinary things. He would be the last man you'd doubt to do it once again. Having already written his names in the Franjiverdes history books, only time will tell if he can do the same with the Azulgranas.
Huesca's motto goes by "Fieles siempre, sin reblar" (Always faithful, without retreating). It's not simple to know what it exactly means. Some say you cannot understand it, you can only feel it.
"Reblar" in particular could mean a lot of things. It means encountering a big storm and continuing to support your team. It means an unbelievable rise of a tiny football team to the first division. It means putting a town of just 50,000 people on the world map. Come the end of the season, will it also mean surviving in the top flight against all odds? We shall see.
---