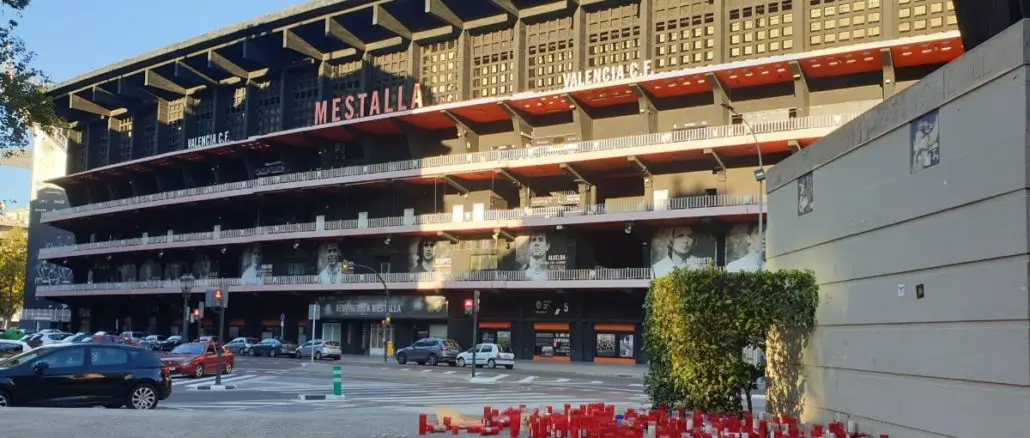 Sitting just one place above the relegation zone after 17 matches, Valencia are a far cry away from the side Unai Emery guided to three consecutive 3rd place finishes between 2009 and 2012.
They are even further away from resembling the club which won two LaLiga titles in 2001/02 and 2003/04 and was runners up in a couple of Champions League Finals at the start of the century.
Yet, even as recently as 2018/19, Los Che finished in the top four and were the Copa del Rey winners, defeating Barcelona 2-1 in the final. 
Whilst Valencia's season has not gone to plan, it would certainly be harsh to lay all the blame on under-pressure Javi Gracia, the former Malaga and Watford boss, who was only appointed in the summer.
The summer transfer window
After all, it is not his fault the owners decided to let go of some important assets during the summer transfer window.
That Valencia sold Ferran Torres, albeit in a cut price deal, to Manchester City is in its own way understandable. Valencia cannot compete with Pep Guardiola's side on a financial or footballing level. 
Accepting a reported €35 million from Leeds United for Rodrigo was an offer too good to turn down. Valencia's arm was also pulled when they lost Geoffrey Kondogbia to Atletico Madrid after the window had shut.
Villarreal have announced the signings of both Dani Parejo and Francis Coquelin from Valencia.

? via @Eng_Villarreal pic.twitter.com/OincGhIxcT

— Transferchanger (@TransferChanger) August 12, 2020
However, to sell both club captain Dani Parejo and fellow midfielder Francis Coquelin to rivals Villarreal on the cheap, cannot be justified. Even Gracia's original and main target Etienne Capoue (his former Watford player) was not signed. 
Ironically the French midfielder has also just signed for Unai Emery's Villarreal who sit comfortably in 5th place, at the time of writing. 
Selling players to recuperate money is one thing but making no significant replacements for them is quite another. The club brought no senior players in during the summer of 2020.
Dreadful start to the season
Although the coach had reason to be aggrieved for the way the summer panned out, Gracia cannot be absolved from all blame for some of his side's woeful performances.
Indeed, despite the recent exodus, Valencia still lay claim to some very good players. Club captain Jose Luis Gaya, Arsenal target Carlos Soler and promising full back Toni Lato are three key players who have come through their academy in recent times. 
At one stage Goncalo Guedes was linked with every club in Europe. The starting XI can still count on the experience of trusted internationals such as Jasper Cillessen, Eliaquim Mangala and Kevin Gameiro. Fans have also been excited by the rise of USA international Yunus Musuh who, at the age of 18, has a lot of promise. 
HIGHLIGHTS | Yunus Musah scores first #LaLigaSantander goal before incredible late drama at Mestalla! ?

? #ValenciaGetafe pic.twitter.com/UMJLSVmW8m

— LaLiga English (@LaLigaEN) November 1, 2020
Nor have all the results been bad. Valencia, after all, demolished Real Madrid 4-1 (albeit with a hat-trick of penalties by Carlos Soler and an own goal by Raphael Varane) in one of the most entertaining matches of the season so far, just a few weeks ago. They also managed a combative 2-2 draw at the Camp Nou against Barcelona and a 1-0 away win at high flying Real Sociedad back on matchday 3. 
The problem with Valencia isn't so much that they lose matches, it's that they hardly ever win. After 17 games, they have won just 3 encounters, having drawn 7 and lost another 7. They do not seem to be able to turn defeats into draws and draws into wins. 
There is some cause for optimism, however. All defeats (apart from the 2-0 loss against Real Betis) have been by just one goal. And out of the 7 stalemates, only one was a goalless draw. If Valencia could find a way to sort out their defensive frailties and turn those draws into wins, they could soon climb up the table. In a tightly congested league, they are still only four points away from 10th place. 
Celta Vigo, with five wins from their last seven, have soared up to 8th place after appointing a coach who can get the best out of his players. It can be done.
Although this season has been disappointing, the real cause for concern for Valencia fans is that it cannot be seen in isolation.
Long-term demise?
Whilst it is fashionable to claim that Gary Neville's tenure at the club in the 2015/16 campaign was due to his inexperience and naivety, the hotseat has become a poisoned chalice of sort.
Since Emery's departure in 2012, 11 coaches have taken over the job (not including caretaker boss Voro, who has had 4 separate temporary spells in charge). Although some have enjoyed success, most notably Marcelino with two top 4 finishes and a Copa del Rey victory, other appointments have made less sense. 
Cesare Prendelli lasted just as long as Gary Neville: 3 months. Miroslav Dukic and Juan Antonio Pizzi both only managed to stay in the job for half a season each. 
And, as the above table shows, the club's league position has been extremely inconsistent of late.
Bad managerial appointments are one reason for this, another is that they have been, even with the investments made in the club by Singapoean Peter Lim, a selling club.
And as the above XI of players Valencia have sold over the last decade suggests, Los Che have been blessed with some really talented players.
But when Europe's strongest teams come calling with their cheque book in the one hand and Champions League football in the other, it's hard for club and player to resist.
Valencia have managed just three top 4 finishes since Unai Emery left in 2012. It is virtually impossible for them to do so this year. Whilst Javi Gracia must take responsibility over the performances and results of this season, Valencia's problems are far greater. 
Selling top players, not investing and bad managerial appointments have all played their part in Valencia's demise. And unless they start winning games, starting with Sunday's match against Real Valladolid, there is a chance that they could even be relegated to the Segunda División.
Stranger things have happened in football.