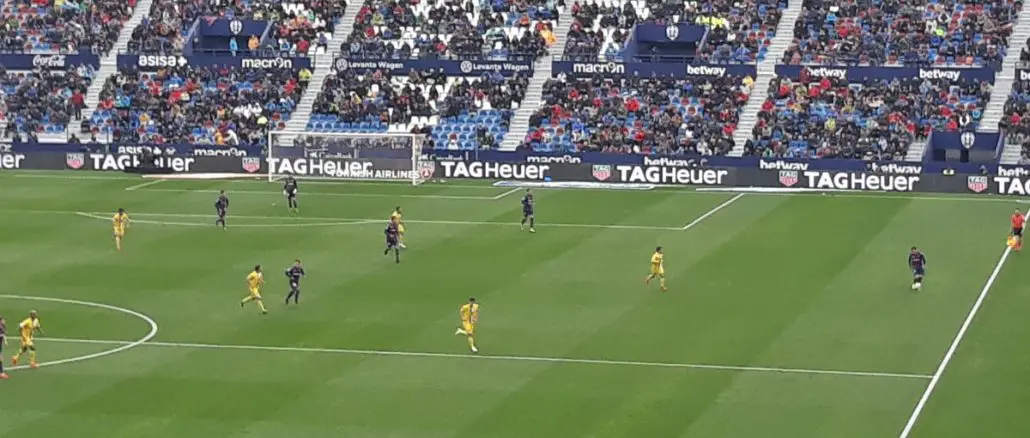 May 13, 2018. Minute 94. Referee Mario Melero López breathed on his whistle for the last time. But the sound of the whistle was drowned by a raucous crowd of twenty thousand. The giant screen at the north-east corner of the Ciutat de València read – Levante five, Barcelona four. There was utter gloom in the Blaugrana camp, while Levante coach Paco López was being tossed into the warm Valencian air by his players.
Normally, this would have been a trivial fixture. Heading into this match, there was nothing at stake for Levante as survival had been guaranteed a few weeks before. As was Barcelona's 25th LaLiga title, secured three matchdays previously. But here's the thing. The Catalans had gone 36 league games without defeat and only 180 minutes separated them from an invincible Spanish top flight campaign, a feat not accomplished by any team since 1932, and never by anybody in a 38 match season. Even the most pessimistic of Culés would not have foreseen conceding five to a newly promoted side when such unrivalled history was inches away from their grasp.
Full time! The mayhem ends. Barcelona's unbeaten run ends. Levante 5-4 Barcelona!https://t.co/O1cF6JhJUo pic.twitter.com/lQBdWoZL5H

— AS English (@English_AS) May 13, 2018
The champions failed to traverse the muddy waters of "the frogs". In one of the craziest Spanish league matches ever, Levante Unión Deportiva etched out the only red line in Barcelona's 2017/18 LaLiga season on the same pitch once graced by Barça's own legend Johan Cruyff.
BRIEF PAST
The last few years have been the best ones in the history of Levante. Since being formed over a century ago, the club from Valencia has spent only 14 seasons in the Spanish top division and nine of them were in the past decade. Las Granotas had been a yo-yo club during the 2000s with three promotions and two relegations until they finally settled down in LaLiga in the early 2010s.
2011/12 was, and still is, by far the greatest season at the club, and also one of the most overachieving seasons by a LaLiga team in recent history. Under the stewardship of Juan Ignacio Martínez, Levante led the Spanish top flight table for two weeks in October and eventually ended the season in 6th place, hence qualifying for Europe for the first time ever. Their first foray into continental football was admirable, only getting knocked out in Extra Time in the round of 16 by Russian outfit Rubin Kazan and going the furthest out of all Spanish teams in the competition that year.
The next few seasons saw decent mid table finishes until relegation followed suit in 2016 with the team ending rock bottom of the league. Las Granotas wasted no time in the second tier and earned immediate promotion back to LaLiga as champions of the Segunda División, thus also clinching their first silverware in 13 years.
2017 ONWARDS
Since their return to LaLiga, things have been more or less stable at the club. They have developed a habit of staying just below the radar. Not too much involved in the relegation dogfight, and not really hustling for European qualification either. And it isn't a problem as their sole business right now is to stay in LaLiga. As long as they reside in the top flight, the players, the fans, the frogs, all are happy.
Statistically speaking, since the start of 2017/18 until the end of 2019/20, Levante spent only 17 matchdays in the top eight of the table. Also during the same period, the Valencian club has only been in the relegation zone for one week and even that was just after the opening matchday of last season when they lost 1-0 to Alavés. One single week in the danger zone during the last three years of league football – a total of 114 matchdays.
GIANT-KILLERS
? 2020 ?
✅ Levante UD 1-0 Real Madrid

? 2019 ?
✅ Levante UD 3-1 FC Barcelona

? 2018 ?
✅ Real Madrid 1-2 Levante UD
✅ Levante UD 5-4 FC Barcelona

¡El @LevanteUD de Paco López es un MATAGIGANTES! pic.twitter.com/WjvV26vvfY

— LaLiga (@LaLiga) February 22, 2020
Levante don't often grab headlines in world football. But when they do, it's usually big. That sensational win over Barça is the prime example. But that wasn't a rare win for them over the Catalan giants. They have beaten the Blaugranas in each of the past three seasons. In 2019, Levante won the 1st Leg of a Copa del Rey tie against what was then Ernesto Valverde's team and just last season, the Granotas triumphed again in LaLiga at the Ciutat de València, this time 3-1, courtesy of a 10 minute comeback blitz in the second half. The result prevented Barcelona from taking an early lead in LaLiga.
Levante spiced up the title race again later in the season, this time beating the other contenders. Real Madrid had not lost in 15 league games when they came to visit the Ciutat de València. A win would have put Los Blancos at the summit of the table but José Luis Morales had other ideas. The home captain's stunning strike 15 minutes from time gifted Barcelona the lead back. Thus, Levante played a catalytic role in determining the 2019/20 Spanish champions, much to the enjoyment of the neutrals.
Since 2017/18, no team has defeated Barça more times in all competitions than Levante. Three wins – that's the same as Real Madrid but Levante have taken three matches less to do it. Only Sevilla (12) have scored more times against Barcelona during that period than Levante (11), and again the Valencian club have played three matches less.
Paco López's men also recorded a famous 2-1 win at the Bernabéu in October 2018 with two quick-fire goals from Morales and Roger early in the first half. This was Madrid's third straight failed attempt to beat them as spoils were shared in both the meetings of the previous season.
Since coming back to LaLiga, Levante have won at least twice against Villarreal, Athletic, Getafe and Real Sociedad. Among the established top half teams, only Atlético and city rivals Valencia have avoided losses against Las Granotas.
GOALS GALORE
Over the last three campaigns, Levante's matches in LaLiga have generated a grand total of 327 goals. That's only less than Barcelona and Real Madrid. They score lots of goals and concede even more of them. Levante goalkeepers have picked the ball out of their net a total of 177 times, more than any other team in LaLiga since 2017/18.
In the 2018/19 season alone, Las Granotas conceded 66 times, second highest in the league and only four less than relegated Rayo Vallecano. However, their exploits at the other end still kept them up with plenty of breathing space. They found the net 59 times – the fourth highest that season behind only Barça, Madrid and Sevilla.
Read More – Levante 2020/21 Season Preview
THE KEY FIGURES
Levante are a team-effort. But some men stand out from the rest.
José Luis Morales is Levante's most experienced LaLiga player with more than 14,000 minutes under his belt and their all-time top scorer in the top flight with 39 goals. A devoted servant of the club for the last nine years, Morales didn't make his LaLiga debut until 27 years of age. Fondly known as El Comandante, now he has become one of the most respected figures in Spanish football. A proud wearer of the captain's armband, José Luis Morales leads by example, both on and off the pitch. A pure club legend.
Comandante strikes again! ?

A second BRILLIANT goal from Morales as he puts Levante back in front ? pic.twitter.com/BxOlmbdHEG

— Premier Sports ? (@PremierSportsTV) September 13, 2020
Morales' chief partner in crime in the Levante attack is Roger Martí. This duo, one of the most prolific in the league, have scored a combined 53 goals in the last three seasons. Roger, four years Morales' junior, is also a long time servant of the club. A product of the Valencia youth academy, the striker shifted loyalties to the other side of the city to join Levante in 2011 and has been their main goal threat in recent years.
A name on every LaLiga fan's lips nowadays is José Campaña. One of Levante's most indispensable players, the midfielder has dazzled the Spanish top flight during the last three years. So much so that he received his first Spanish senior national team call-up earlier this month and became only the second ever La Roja player from the club.
Some other Granotas also deserve a mention. Goalkeeper Aitor Fernández made the most saves (152) in LaLiga last season. 25 year old North Macedonian Enis Bardhi has already become one of Levante's best foreign imports while Toño and Sergio Postigo have been faithfully present in the backline.
Lastly, we talk about Paco López. A former Levante player himself, the 53 year old was appointed the first team coach in March 2018 after the sacking of Juan Ramón Muñiz under whom the club was gradually slipping towards the danger zone after having not won a game in four months. López brought with him the 4-4-2 system and picked up eight wins in the last eleven games to end the season on a big high. In fact, Levante were the best performing team in the league during those last eleven rounds of the 2017/18 season with a total of 25 points comfortably steering the side to safety.
Levante have also been smart in their transfer business. The €1 million deal for Aitor Fernández from Numancia has turned out to be a huge steal. The likes of Rochina, Melero, Vukčević and Vezo were also key early acquisitions that helped Paco Lopez's side firmly establish themselves back in the top flight. This season, there has been a shift towards focusing on the reduction of the average age of the squad with new arrivals Dani Gómez and Jorge de Frutos offering more youthful options in attack.
Levante's name was indirectly derived from the Levant wind which blows from the east. And in recent years, Levante have lived up to their name by being that gust of wind which freshens up almost every matchday in LaLiga. They don't boast any big names, they don't have a huge stadium, they aren't even a huge club. But it would be massively ignorant to say that Levante UD have not been an important team in the Spanish top division over the past few years.
A clinical offence, a decent midfield and a slightly inferior defence. But they wouldn't be 'Levante' if they were perfect.
So who are Levante in a nutshell? A pride for their fans, a treat for the neutrals and a hassle for the bookies. They could overwhelm the league leaders today and go down to a relegation threatened team next Sunday. With Levante, you never know what's coming.