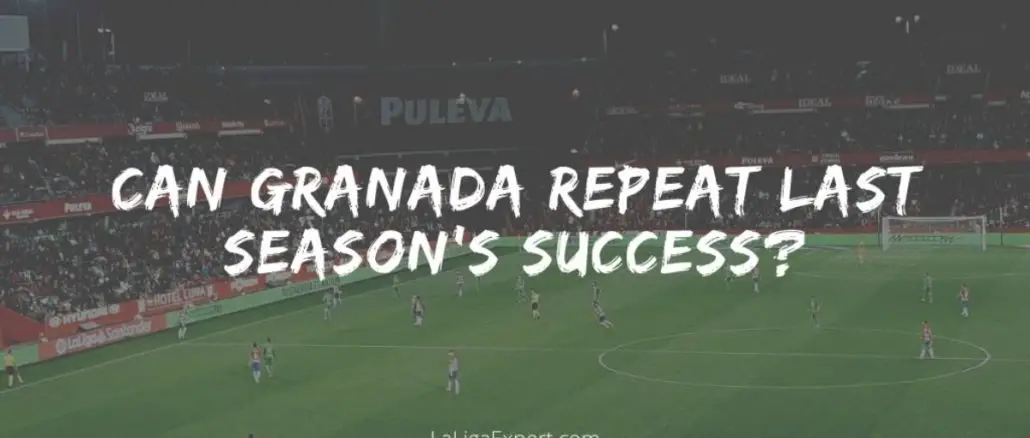 On Thursday, Granada Club de Fútbol will make their longest ever journey to play a competitive football match as they travel to Albania to take on KF Teuta in the Europa League second qualifying round. This is the first ever European venture in the club's 89 year history, a feat made possible by winning three of their final four LaLiga games of last season which included a 4-0 home drubbing of Athletic Club on the final day to secure 7th spot for the Andalusians.
Prior to last season, Granada had spent two years in the Spanish second tier. In 2019, they returned to LaLiga and they did so with a bang. Diego Martínez's side spent all but three weeks inside the top ten and even flirted with the Champions League spots early in the campaign. Coupled with their best LaLiga finish in 46 years, a semifinal appearance for El Graná in the Copa del Rey for the first time since 1969 put together arguably the best season in their history.
Ambitious Granada fans will hope for a replica of last season's performances. Another upper half LaLiga finish, reaching the group stages in Europe and maybe even knocking on the doors of the last 32 will constitute another dream season for the Granada faithful.
?⚪️ GRANADA CF ??#UEL #GranadaEnEuropa pic.twitter.com/JcClBlAavj

— Granada CF ❤️⚪️ (@GranadaCdeF) September 16, 2020
Easier said than done though. As we saw with Espanyol last season, a European campaign can be a curse as well. The Catalans played a total of 14 matches in the Europa League and ended the season bottom of LaLiga. For a club like Granada, first timers when it comes to European adventures, there is a lot to learn from Espanyol.
2020-21 will be a mountainous task for the Andalusians. A shrunken calendar means a miniscule preseason and congestion of domestic fixtures. And when you throw in tricky away trips like the one on Thursday in the Europa qualifiers, it could prove difficult to have a stable start to the domestic season. No double legged fixtures in the qualifiers might work to the advantage of Granada as now they can reach the group stages with only three wins. But it also means no second chances and if they stumble in Albania on Thursday, their European dream will end even before it begins.
THE SQUAD
Diego Martínez's men already got the new season underway last Saturday with a convincing 2-0 victory over Athletic Club. For Granada, a strong first XI and an equally strong bench will be more important than ever in this jam-packed season. Reinforcements have arrived at Los Cármenes and deservingly so for the young Martínez who, after a season like last, has all the right in the world to receive the board's backing in the transfer market.
As was the case last season, defensive solidity will be the key again. Domingos Duarte and Germán Sánchez were phenomenal at the heart of the defence last term. Duarte's performances earned him a first international call-up for Portugal last November and again in August of this year. Jesús Vallejo was roped in as a loan signing from Real Madrid in early 2020. His deal has been extended until the end of this season to provide back-up for Duarte and Sánchez. Also earning his first international call-up in 2019/20 was Rui Silva who was stellar in goal. The club has also retained Dimitri Foulquier with his loan deal from Watford made permanent for €2 million. He will play second fiddle to captain Víctor Díaz in the right back position.
For most of last season and in the first game of this as well, Diego Martínez deployed a 4-2-3-1 and will be expected to continue with that. Yangel Herrera was a standout figure in the centre of the park for the Nazaríes on their return to the top flight and to the delight of the Granada fans, the 22 year old Venezuelan will be returning back for another season at Los Cármenes. In the midfield, Herrera will be expected to pair up with Maxime Gonalons whose loan deal from Roma was also made permanent at a meagre cost of €4 million. He will hope to have a more fluid campaign this time around as last season the Frenchman suffered a muscle injury after the restart in June and hence featured in only 19 LaLiga games all season. The club also has Yan Brice Eteki and Ángel Montoro to compete for the holding midfield roles. 26 year old Álvaro Vadillo has been the only departure from the Granada camp this summer as he joined Celta on a free transfer.
Players with the initials 'LM' are always special. ?

❤️ @LuisMilla_6 ❤️#YouHaveToLiveIt pic.twitter.com/XQRm7zjU2M

— LaLiga English (@LaLigaEN) September 16, 2020
Their standout signing is that of 25 year old midfielder Luis Milla who had been impressive for Tenerife in the Segunda División for the past two years and cost €5 million. He had a good outing against Athletic netting on his debut for the club. The Atlético Madrid youth product will slot right into the starting line-up for Diego Martínez with Nigerian Ramon Azeez and Fede Vico to act as potential replacements on the bench.
The Andalusians also brought in reinforcements for the wide positions. Left winger Kenedy, who played last season for Getafe, was loaned from Chelsea and 21 year old right winger Alberto Soro was bought for €2.5 million from Real Madrid. But like last season, Darwin Machís and Antonio Puertas will be the main men handling the wings for Granada this time around.
One position where Granada have been hit before the start of the season is number 9. Carlos Fernández was the team's top scorer with ten goals in LaLiga last term. But the Sevillista's loan deal has not been renewed and he will return to Granada's bigger Andalusian rivals for this campaign. As a replacement, 38 year old striker Jorge Molina was signed on a free transfer from Getafe on a two year deal. With plenty of Spanish top flight goals to his name for Real Betis and Getafe, Molina will join Roberto Soldado to form the most experienced strike duo in LaLiga this season. The veteran Spaniards have a combined tally of exactly 500 LaLiga appearances. Martínez will also have the services of 20 year old forward Antoñín, signed from fellow Andalusian outfit Málaga in January.
Overall, Los Nazaríes have ample players to cover all positions of the line-up but one weak link in terms of depth might be central defence. Since Duarte and Sánchez are going to be undisputed starters, recruitments had to be made for their backups and only Vallejo has been finalised so far. There is still half a month until the transfer window ends and that's the area where they would want to bolster up.
THE CALENDAR
The starting few weeks will be crucial for Granada. Assuming they win all their qualifying games to reach the group stage in the Europa League, it will mean six matches in the space of 16 days, which includes a tough trip to the capital to face Atlético later this month.
The good news is that if they win their first ever European encounter against Teuta, another lengthy trip will be saved as the third qualifying round will then be played at Los Cármenes. The group stage is the ultimate aim but the path after reaching there will not get any easier.
Group matches this season will be staged in consecutive weeks during October, November and December with a two week hiatus in November for the international break. The calendar will be more congested for at least five players in the squad expected to be called up by their national teams – Silva, Duarte, Azeez, Herrera and Machís.
That could result in some players having two games per week for virtually the remainder of 2020. Squad management will be key for coach Diego Martínez.
Read More – Granada 2020/21 Season Preview
HOME FORM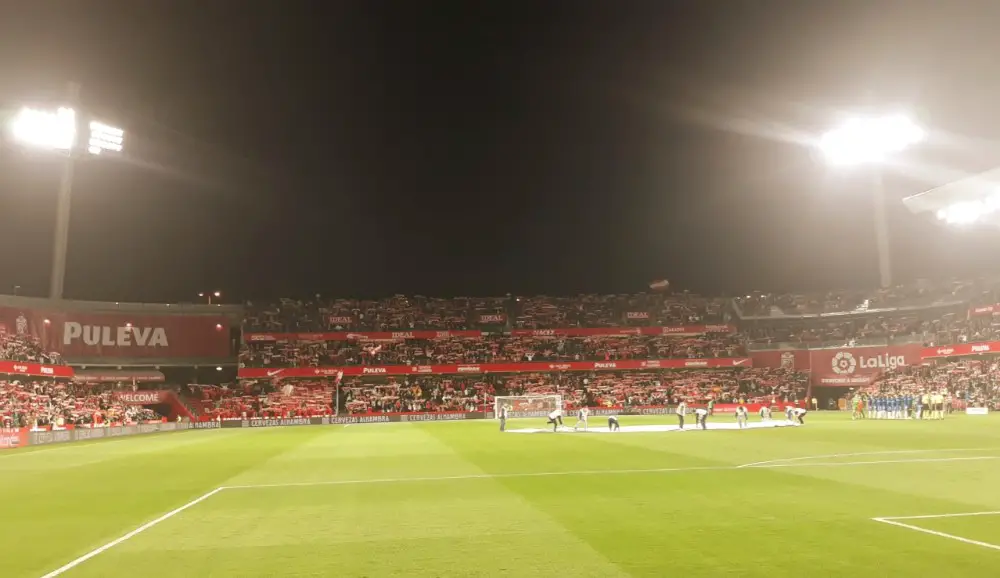 Nuevo Los Cármenes was a fortress for Granada last season, at least until the matches were staged with the fans in attendance. They were the 6th best home team in LaLiga with 10 out of their 16 wins, including one against champions Barcelona, coming at home. Atlético and Valencia also failed to dismantle this Granada team at Los Cármenes.
Eventual league winners Real Madrid ran out 2-1 victors but only just, as they held on, by the skin of their teeth, against the most scintillating second half display El Graná produced all season. At the full time whistle, Madrid manager Zidane let out a big roar, something unusual for him, which he later explained as a roar of delight. His team had suffered in possibly their toughest away game of their title winning run. Granada came away empty handed from that match, but it instilled even more grit and determination in the squad as they rallied on to a hard fought win at Mallorca before seeing off Athletic brutally at home to end their campaign.
But their home form did stutter after the restart. All three of their post lockdown defeats came at home, signifying how important the fans had been throughout the season for the team. The absence of home support will be the biggest loss for Los Nazaríes in their quest for another record breaking season.
TO CONCLUDE
The defence and midfield is more or less the same as last season and will have to keep on performing consistently. In attack, the loss of Carlos Fernández means that there is more goalscoring responsibility on the shoulders of Machís and Puertas. Granada performed week in and week out last season. But a week in this season is only as long as a few days. Matches will come thick and fast and only time will tell if the rookies of Europe have what it takes to deliver in 2020-21.
Granada were the team which outperformed themselves the most in LaLiga last season. As a direct consequence, the expectations from the fans are higher this time around. We will just have to wait and see if Granada were just a one season wonder or if they will pass their most demanding campaign ever with flying colours.