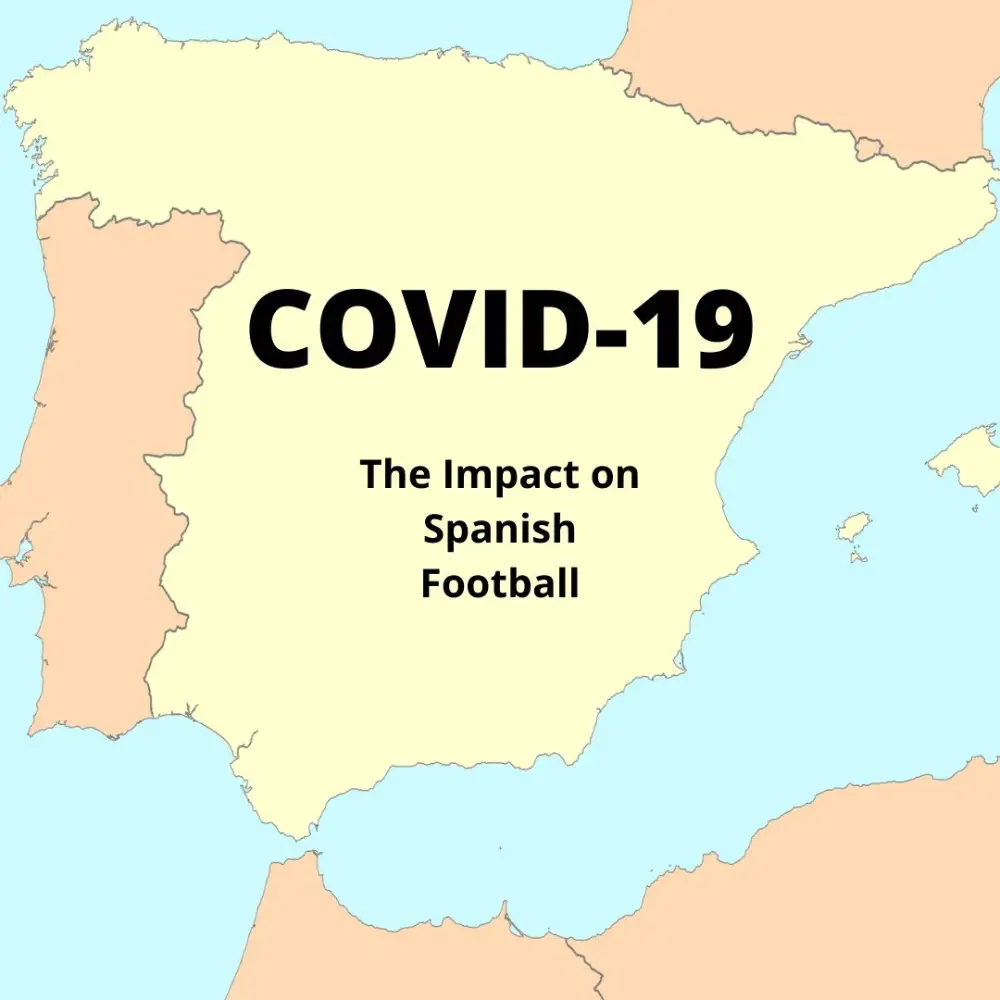 Spain has been one of the world's worst affected countries by the outbreak of coronavirus. Over 20,000 people have died and the government enforced a strict state of lockdown that lasted well over a month before announcing plans to return to a 'new normal' throughout May and June. While clearly this issue is far bigger than sport, there remains many unanswered questions on what the full extent of the coronavirus impact on La Liga and Spanish football will be.
This page will be updated with the latest developments.
---
Coronavirus & La Liga: Latest Developments
---
Monday 1st June – Full Training Resumes, Real Madrid won't play at Bernabeu
Official: Real Madrid will play their remaining La Liga home games at the Estadio Alfredo di Stefano, at their training ground. pic.twitter.com/2F0Q2OwJoU

— ESPN FC (@ESPNFC) June 1, 2020
Spanish clubs have returned to full contact training, just 10 days before the resumption of La Liga.
We've also had more information about venues with Real Madrid confirming they will play their remaining games at the Estadio Alfredo Di Stefano at their training base due to the renovation of the Bernabeu. Levante are the other club who won't play at their usual home ground with their matches set to take place in La Nucía, near Benidorm.
Friday 29th May – CSD confirm La Liga will restart on June 11th
The National Sports Council (CSD) has formally approved the resumption of La Liga, starting with the Seville derby on June 11th. Kick-off times for the opening two matchdays have now been announced.
Javier Tebas has also gone into greater detail about the plans for next season. September 12th is the current target date to start the campaign, which would still ensure that players get a reasonably long summer break. Clubs still in European competitions though would have significantly less time off with the Champions League and Europa League set to conclude in August.
Wednesday 27th May – La Liga get Permission to stage Monday & Friday Games
RFEF give LaLiga permission to play games on Mondays & Fridays to help finish the season. Tebas' aim for football 'every day' on track https://t.co/rj4EUVCL8q

— Samuel Marsden (@samuelmarsden) May 27, 2020
The prospect of having La Liga games every day for more than a month now looks firmly on after the RFEF granted La Liga permission to play Monday night games. The Spanish league agreed to cease playing on Mondays last year after regular fan protests against Monday football. However with fans not likely to be heading inside football stadiums until potentially next year, there is unlikely to be much anger against this move providing it is a temporary solution.
Monday 25th May – Seville Derby expected to restart La Liga on June 11th
Javier Tebas has told Spanish TV that La Liga could kick off again with a behind closed doors Seville derby on Thursday 11th June. Tebas claimed he hoped the match would be 'a tribute to all the people who have died'.
Sunday 24th May – Sevilla Players Breach Social Distancing Rules
What do you do when you have so much money & lockdown is dulling your vibes?

Here's what 4 Sevilla players did: They threw a party, flouting Spanish lockdown orders

One of the wives, even took pictures & uploaded on Instagram

The result: Disciplinary action loading

?: Banega pic.twitter.com/gqQteiG2RE

— Instablog9ja (@instablog9ja) May 25, 2020
Four Sevilla players – Ever Banega, Lucas Ocampos, Franco Vazquez and Luuk de Jong – face punishments after an instagram post by Banega's wife showed the quartet socialising at a party of at least 12 people.
Saturday 23rd May – Government gives La Liga the Green Light to Return
Spanish PM Pedro Sanchez has formally approved the restart of La Liga. He has announced that from 8th June, Spanish professional football can resume although the league is not expected to start up again until a few days after that.
Monday 18th May – Group Training resumes
Celta are also in group action today ?

We love how Iago Aspas is almost perfectly in the shape of that training mannequin ?

? @RCCelta#LLL
???⚽️ pic.twitter.com/cQO4levxll

— La Liga Lowdown ???⚽️ (@LaLigaLowdown) May 18, 2020
La Liga teams have today started group training where players are allowed to practice in groups up to a maximum of ten. It's the latest big step as La Liga moves towards a restart although there is still no fixed date for the first fixture, which is expected to be the Seville derby at the Ramon Sanchez-Pizjuan.
Saturday 16th May – All eyes on the Bundesliga
Dortmund always thank the Yellow Wall after a game.

Some things never change ?? pic.twitter.com/Ew5nxMRfwt

— B/R Football (@brfootball) May 16, 2020
Everyone connected with La Liga will be keeping a close eye on events in Germany as the Bundesliga resumes behind closed doors. The success or failure of Germany's resumption of football will go a long way to determining whether or not Europe's other leagues continue with their respective restart plans.
Friday 15th May – Atleti's Lodi training again after Positive Test
Renan Lodi has returned to individual training at Atletico Madrid's training base. The Brazilian had previously tested positive for coronavirus but has since returned a negative test.
Thursday 14th May – 'We know it's going to all be very strange' says Messi
Leo Messi has spoken out about the return to football action. 'Personally I'm looking forward to the competition returning' said the Argentine. 'We know it's going to all be very strange, without anyone in the stands and with training camps. The truth is we don't want to be separated from our families.'
Part of La Liga's grand plan to return in June includes players effectively going into lockdown again at training bases away from their families.
Monday 11th May – Madrid clubs among those training again
⚽? #RMCity, it's great to be back! #HalaMadrid pic.twitter.com/RTZhMsyS3M

— Real Madrid C.F. ???? (@realmadriden) May 11, 2020
Following last week's testing of players, many Spanish clubs formally returned to training on Monday including both Real Madrid and Atletico Madrid.
Sunday 10th May – Tebas targeting 12th June Restart & July Finish
LaLiga president Javier Tebas on Movistar's Vamos tonight:

– hopes to restart June 12, but depends on progress made
– Primera & Segunda to begin on same day
– games every day for 35 days
– testing "virtual" and "interactive" elements to make up for lack of atmosphere

— The Spanish Football Podcast (@tsf_podcast) May 10, 2020
In a bullish interview with Movistar, La Liga president Javier Tebas has outlined his plans for the resumption of Spanish football.
On the likely return date, Tebas said 'It will depend on the spikes in numbers and all the rules being followed. The virus is still there but if it can be on 12th June, all the better. If we all follow the health rules I don't think we're going to have any problems. The idea is to finish on 31st July so August can be left for European competitions. Those dates can also be used for the play-offs. There will be league games every day, as already happens in March and April with a normal fixture list.'
He also cited his intention for the Seville derby to kick off the restart of La Liga 2019/20.
Friday 8th May – Five Players test positive for COVID-19
The testing of players up and down Spain this week has produced five positive tests for COVID-19 among players in La Liga and the Segunda Division according to AS. La Liga will formally announce how many players have tested positive for the virus when they conclude the initial round of tests.
Thursday 7th May – Cadiz player Fali refuses to train
Segunda leaders Cadiz will be one man short if football does indeed return after Fali announced he was not willing to return to training due to safety concerns. In an interview with Cadena Copa radio station, he said he would not be seeking payment of his wages during the period and also claimed that many other players were worried about returning to football.
Wednesday 6th May – Messi in a Mask as Clubs return to Training Bases
Barcelona players at the training facility for medical tests as they begin individual training. pic.twitter.com/UwetUUpzJL

— lovefootballng (@lovefootballng) May 6, 2020
While few were in doubt that the return to football action in Spain would be anything but normal, the sight of the world's best footballer turning up at Barcelona's training ground in a protective mask underlined the strange times we are all living through. Barça's players were among those in La Liga to be tested on Wednesday ahead of a return to training.
Tuesday 5th May – Testing & Inspecting begins
Each of La Liga's 20 clubs have slightly different schedules for their returns to formal training. The process though is largely the same with testing and La Liga inspections of each training ground taking place this week. Villarreal, Real Valladolid, Levante and Alaves have all announced plans to test players starting on Tuesday with other clubs to follow later in the week. All being well, training grounds are set to reopen to players by the end of the week, although some clubs may opt to continue individual training away from the their bases. Athletic Club for example have said they will not return to their Lezama training base until next week.
Monday 4th May – Real Sociedad & Athletic Club request postponement of Copa del Rey Final
Athletic And Real Sociedad Formally Request The Copa Del Rey Final Be Postponed https://t.co/q4LFZIy9vy pic.twitter.com/6HciD5lwcW

— Inside Athletic (@InsideAthletic) May 4, 2020
The all-Basque Copa del Rey Final looks set for a lengthy delay as both finalists agreed to ask for the delay of the staging of the game until the point that fans will be able to attend, which may not be until 2021. This means we could see two Copa del Rey Finals next year. The original 2020 showpiece was scheduled to take place in Seville in April. Both La Real and Athletic are determined to play the fixture when fans are able to attend even though it may result in a European place not being awarded to the winners.
Thursday 30th April – Individual Training & Testing set to start on Monday
Following Tuesday's announcement, La Liga players will be able to step up their efforts to get fit with basic individual training from Monday onwards with testing also due to start on the same day. Spain's easing of the lockdown will happen on a province-by-province basis (there are 50 provinces) though which could cause a further complication for some clubs and indeed the overall plan to restart the league at some point in June.
Tuesday 28th April – Spanish government announces plans for return to 'new normal'
With the daily COVID-19 death-toll dropping below 300 for the first time in over a month on Sunday, there are now clear signs that the situation is improving in Spain. As a result, the Spanish government has announced plans to ease the lockdown and return to what they are describing as the 'new normal'. Adults are set to be allowed out to exercise from Saturday onwards, a significant move for Spanish football as it will allow clubs to return to training.
Sunday 26th April – Children allowed outside for the first time in 6 weeks
Children in Spain are allowed out of the house for the first time in six weeks as coronavirus deaths in the country continue to decline. Follow live updates:https://t.co/KDvzRa7GBU pic.twitter.com/NmYsRsEqqH

— CNN Breaking News (@cnnbrk) April 26, 2020
In the first significant step to the Spanish government easing the world's strictest lockdown, around six million children under the age of 14 were allowed outside for an hour on Sunday.
Wednesday 22nd April – No fans until 2021?
La Liga president Javier Tebas met with clubs from the top two tiers in Spain on Wednesday. In those meetings, he is believed to have said that it would be unrealistic to expect any games to take place in front of fans until 2021, unless a vaccine is found.
Tuesday 21st April – Barça to sell naming rights for Camp Nou
Barcelona have decided to sell the naming rights to Camp Nou for the very first time. According to the club 'Revenue will be used to fund research projects and the worldwide fight against the pandemic'.
Monday 20th April – Training return agreed
"The National Sports Council (CSD), LaLiga and the Royal Spanish Football Federation (RFEF) have agreed to return to professional football training"

Significant step on the road to the resumption of Spanish football.https://t.co/2ik2vTU36o

— LaLigaExpert (@LigaExpert) April 20, 2020
The Spanish league and Football Federation agree in principle to allow clubs to resume training. However the statement does add the significant caveat that the move will be 'subject to the evolution of the COVID-19 pandemic and to the decisions taken by the Ministry of Health'. The situation is improving in Spain despite the total death toll passing the grim figure of 20,000 over the weekend.
Thursday 16th April – Reports that European places could be awarded on current positions
Multiple media outlets including ESPN are reporting that the Spanish football federation are proposing to award European places based on current league positions in the event that the season cannot be completed. That would see Barcelona, Real Madrid, Sevilla and Real Sociedad qualify for the Champions League. Meanwhile Getafe and Atletico Madrid would have to make do with Europa League football. That would be particularly harsh on Geta who are only behind 4th place La Real on goal difference and having won at Anoeta earlier this term, they were well-placed to secure the H2H advantage, the usual end of season tie-breaker.
La Liga president Javier Tebas remains optimistic the season will be completed although it is the RFEF that has the final say on European qualification, with this the latest in a long line of disagreements between the two bodies.
Monday 13th April – Lockdown eased but government prevents Real Sociedad return to training
With the number of deaths and new cases falling, the worst of the coronavirus crisis is now seemingly over in Spain and the government has responded by easing the lockdown measures very slightly by allowing some non-essential workers to return to their jobs. However secretary of state for sport Irene Lozano has stepped in to prevent Real Sociedad from returning to training on Tuesday. They had planned to be the first La Liga team to do so.
Friday 10th April – Barça board members resign
Six Barcelona board members resign from their positions including two of the four vice-presidents – Emili Rousaud and Enrique Tombas. 'We have arrived at this point because we cannot reverse the way the club is managed in the face of important challenges in the future, especially in the post-pandemic era' said the six in a letter which called for the club to hold new presidential elections.
Current president Josep Maria Bartomeu has come under increasing pressure in recent months following numerous events including the so-called Barçagate social media scandal and the disagreement between the club and players over salary cuts in reaction to the COVID-19 outbreak.
Wednesday 8th April – Sevilla furlough players, Real Madrid announce 10-20% salary cuts
Breaking: Real Madrid players will be taking a 10-20% wage cut amidst the coronavirus pandemic ✂️#RealMadrid pic.twitter.com/rx6Kyw97xh

— Soccerlens (@soccerlens) April 9, 2020
Two more of Spain's biggest clubs announce measures to cope with the economic impact of coronavirus. Sevilla have placed their playing and non-playing staff on furlough leave. Real Madrid meanwhile have taken a slightly different tact to their main rivals with their players and coaches all agreeing to reduce their salaries by at least 10%, potentially rising to 20% depending on how the return to football plays out.
Tuesday 7th April – Tebas targeting 28th May as earliest possible restart
Speaking to the international media, La Liga president Javier Tebas claimed 'Of all the different scenarios we have been looking at with Uefa to go back to competing, the most probable ones are 28 May, 6 June or 28 June'.
Monday 6th April – New cases & deaths falling in Spain at last
Finally some relatively encouraging news with the latest figures showing that the overall death toll and number of new cases in Spain to have fallen for the fourth day in a row with infection rates also falling. 13,193 people have now died from the virus in Spain, sadly including the mother of former Barça boss Pep Guardiola whose passing was announced on Monday.
Saturday 4th April – Lockdown extended as players & La Liga struggle to agree pay cuts
Spanish PM Pedro Sanchez announced an extension to the country's lockdown, one of the strictest in the world, until April 25th. With the path to a way for football to restart no nearer, LaLiga and the Spanish football Player's Association continue to negotiate a pay cut. The players have indicated a willingness to accept a reduction but are so far refusing to meet the league's demands.
Thursday 2nd April – Worst day takes Spanish death toll past 10,000
With Spain now deep into its third week of a near total lockdown, hopes that the tide might be turning in the country's battle against COVID-19 proved slightly premature with 923 more confirmed deaths – the highest number recorded in a 24 hour period since the start of the outbreak. Over 10,000 have now died of coronavirus in Spain.
Monday 30th March – Barça players to supplement wages of non-playing staff
Lionel Messi says Barcelona players will take a 70% wage cut and support all club staff for as long as the coronavirus outbreak lasts ? pic.twitter.com/cw4m9hxgP9

— ESPN FC (@ESPNFC) March 30, 2020
Even during this difficult time for everyone, the fractious relationship between the Barcelona players and board has been manifesting itself. After Barcelona's players initially refused to take a voluntary 50% pay cut, they have effectively trumped the club by offering to pay the remainder of the wages of non-playing staff during this period.
Saturday 28th March – La Liga festival raises over €600k amid extended lockdown
A charity event featuring a host of famous Spanish sports and entertainment stars raises over €600k (donations still open) to help the fight against COVID-19. Sergio Ramos, Lucas Vazquez, Gerard Pique, Ivan Rakitic, Saul Niguez, Koke, Santi Cazorla, Iker Muniain and Jesus Navas are among those involved. The country's formal lockdown has been extended by a further two weeks.
Friday 27th March – Barcelona & Atleti announce wage cuts
After their players rejected a 50% wage cut, Barcelona announced measures to reduce the salaries of their players and staff by around 70% (something which is possible under Spanish law during a period of National Emergency) with Atletico Madrid quick to follow suit. Atleti CEO Miguel Angel Gil Marin claimed the cuts were necessary to 'guarantee the survival of the club'. With two of Spain's biggest clubs forced into such actions, this clearly raises many questions about the impact the indefinite suspension of football will have on clubs lower down.
Wednesday 25th March – Spanish death toll surpasses China
Despite nearly two weeks of lockdown, cases and deaths continue to rise in Spain. 656 people die on 25th March taking Spain's death toll to 3,647, greater than the official number to have died in China – the original source of the outbreak. Only Italy has recorded more fatalities.
Tuesday 24th March – Atalanta-Valencia clash described as COVID-19 'bomb', Messi & Ronaldo make big donations
Lionel Messi makes €1 million donation to #coronavirus cause, with money going to Hospital Clínic in Barcelona and some of it to Argentina#FCBlive https://t.co/m3yy5wtXWl

— Ben Hayward (@bghayward) March 24, 2020
With Italy and Spain continuing to deal with the most serious outbreaks of coronavirus in the world, the mayor of the Italian city of Bergamo Giorgio Gori described the decision to play Atalanta's Champions League clash with Valencia with fans in February as 'the bomb' which led to the explosion of the virus in Lombardy, one of the world's worst hit regions. 40,000 Atalanta fans made the 50 km trip to Milan for the match while a few thousand Valencia fans made the trip over from Spain. Many Valencia players, coaches and journalists covering the game have since tested positive for COVID-19.
Meanwhile Leo Messi and Cristiano Ronaldo lead the response of sports starts by announcing €1 million donations to support hospitals.
Monday 23rd March – La Liga suspended indefinitely
The Spanish league releases a statement announcing the indefinite suspension of La Liga.
Sunday 22nd March – Asensio wins Fifa tournament
In front of an online audience of 170,000, Marco Asensio wins La Liga's Fifa 20 tournament for Real Madrid, beating Aitor Ruibal of Leganes 4-1 in the final. The tournament raised €140,000 to help fight coronavirus.
Saturday 21st March – Former Real Madrid president Lorenzo Sanz dies
Such a great photo. Lorenzo Sanz, holding the Champions League trophy, on the shoulders of Clarence Seedorf and his son Fernando. Can't overstate what a huge deal winning La Séptima in 1998 was for Real Madrid after 32 years. RIP. pic.twitter.com/JlPp9qgE3Q

— Alex Kirkland (@alexkirkland) March 21, 2020
Lorenzo Sanz, Real Madrid's president from 1995 to 2000, dies after contracting the coronavirus. Sanz oversaw a vital period in the club's history – one which saw them end a 32 year wait for a European Cup.
Friday 20th March – Tebas talks of mid-May resumption
La Liga president Javier Tebas claims the Spanish top flight and other European leagues and competitions are working around the notion of resuming in mid-May. This sort of time-frame may just about allow the domestic leagues to finish by the end of June when large numbers of players are out of contract. However it would be tight and may be dependent on cup competitions being shortened.
Thursday 19th March – La Liga turns to e-sports
So in response to the suspension of @LaLigaEN, @IbaiLlanos alongside many other friends in the community have decided to start a FIFA tournament featuring one player on each of the 20 La Liga sides taking on each other and here is the final draw of the tournament. pic.twitter.com/3nvpyWXDhL

— Roberto Rojas (@RobertoRojas97) March 19, 2020
In a slightly lighter story at a difficult time in Spain, a FIFA tournament is arranged with one player from each team in La Liga taking part and representing their club.
That tournament did not feature Luka Jovic who has reportedly broken Real Madrid's quarantine to visit his girlfriend in Serbia.
Wednesday 18th March – La Liga testing draws criticism
Reports that La Liga had hired a medical service including 500 coronavirus tests for their players drew criticism with Spanish FA president Luis Rubiales labelling their actions 'irresponsible and totally unpatriotic'. Real Valladolid have rejected the offer of testing on 'ethical and medical' grounds.
Spain remains gripped by the coronavirus crisis with over 2,000 new cases and 90 more deaths in the space of 24 hours despite the continued lockdown. Three Alavés players and seven members of their coaching staff were among those to test positive with the area around Vitoria among the worst hit regions.
Tuesday 17th March – Euro 2020 becomes Euro 2021
Euro 2020 ⏭️ Euro 2021

The only logical decision.

— LaLigaExpert (@LigaExpert) March 17, 2020
Euro 2020 is pushed back a year to the summer of 2021. This widely expected move creates greater leeway for the domestic leagues to finish.
Monday 16th March – More positive tests at Valencia
Valencia confirm that 35% of their playing and backroom staff have now tested positive for coronavirus. All cases are described as 'asymptomatic'. Los Che travelled to the high-risk area of northern Italy for their Champions League knockout clash with Atalanta last month.
Sunday 15th March – Five Valencia players and staff test positive for coronavirus
OFFICIAL STATEMENT

➡️ https://t.co/as4stFEP9x#StayHome pic.twitter.com/DSndwbjAfz

— Valencia CF English ?? (@valenciacf_en) March 15, 2020
Centre-back Ezequiel Garay becomes the first player in La Liga to announce a positive test with fellow defenders José Luis Gayà and Eliaquim Mangala subsequently also being confirmed as having the coronavirus.
Saturday 14th March – Spain goes into lockdown
A formal state of emergency is declared by the Spanish government and an imposed two-week lockdown starts with people ordered to stay at home. All non-essential shops close along with bars, restaurants, cafes and cinemas.
The total number of cases in Spain has skyrocketed to 6,391 by this point with almost 200 deaths, making it the worst affected country in Europe outside of Italy.
Thursday 12th March – Real Madrid quarantine forces suspension of La Liga
After a member of Real Madrid's basketball team (which shares the training facilities with the football team) tested positive, Zinedine Zidane's squad were forced into a period of isolation to avoid the risk of the virus spreading. This development prompted the action many had already been anticipating as La Liga released a statement announcing the suspension of football for at least the next two match-days meaning there will be no league action until at the very least the weekend of 4th/5th April.
Wednesday 11th March – Atleti win at Anfield, Copa del Rey Final postponed
Despite an increasingly serious outbreak in Madrid and a ban on fans attending matches in Spain, an estimated 3,000 Atleti fans travel to Merseyside to see their side win a remarkable Champions League game 3-2 against defending champions Liverpool. Diego Simeone's side book their place in the Quarter-Finals as a result but their match is to prove the final one played by a Spanish top flight team before the suspension of football with Getafe and Sevilla's Europa League games the following night both postponed.
In a separate development, it was announced that the Copa del Rey Final between Basque rivals Athletic Club and Real Sociedad, scheduled for Seville on 18th April, had also been postponed due to the virus.
Tuesday 10th March – Eibar host Real Sociedad behind closed doors
La Liga announces that all matches in the top two divisions will be played behind closed doors for at least the next few weeks. The ban immediately comes into effect with the rearranged game from matchday 24, seeing Real Sociedad beat Eibar 2-1 behind closed doors at Ipurua. It proves to be the final match to be played in La Liga before the suspension.
Valencia exit the Champions League on the same night, losing at home to Atalanta at an also empty Mestalla.
Sunday 8th March – Betis beat Real Madrid in the final La Liga game with fans
Real Madrid slip up against Real Betis and miss the chance to go above Barcelona! #RealBetisRealMadrid pic.twitter.com/PgBS3HIYI2

— Goal (@goal) March 8, 2020
La Liga Matchday 27 was the final weekend of action before the suspension of football. All ten games took place with supporters in the stadium and it concluded with Real Betis beating Real Madrid 2-1. The result ensured that Barcelona and not Los Blancos would top the league at the time of the cessation of football in Spain.
Thursday 5th March – Fans banned for Valencia-Atalanta
It's announced that the following week's Champions League match between Valencia and Atalanta will be played behind closed doors to prevent the spread of the outbreak.
At this point, there are 237 reported cases of coronavirus in Spain, less than 10% of the number in Italy, Europe's worst-hit country. It's the first time a match in Spain has been scheduled to be played behind closed doors due to the COVID-19 outbreak.
Thursday 13th February – First COVID-19 death in Spain
A 69 year old man in Valencia, who had recently returned from Nepal, becomes the first in Spain to die from the virus.
Friday 31st January – First COVID-19 case in Spain
The coronavirus arrives in Spain for the first time after a German tourist in the Canary Islands tests positive.
---
How bad is the COVID-19 outbreak in Spain?
---
As of Friday 15th May, Spain is the country with the 2nd most confirmed cases of coronavirus in the world with 274,367 in total behind only the USA. 27,459 people have so far died in Spain, the 4th most, although it is possible that some countries are under-reporting their figures. The Community of Madrid has been particularly badly hit putting a huge strain on healthcare facilities. Roughly a third of COVID-19 deaths in Spain have come in the capital region.
The Spanish government responded by declaring a state of emergency in March and instilling one of the world's strictest lockdowns. This essentially meant people had to stay at home for the duration of the period, unless they were essential workers or going out to buy vital items such as food or medicine. With police patrolling the streets and large fines in place for anyone who broke the curfew, Madrid and other cities around Spain were virtually deserted in what is an unprecedented period for the country and indeed the world.
The situation is improving with the number of new cases and deaths falling. The strict lockdown has been eased with adults and children now both allowed out for daily exercise. Spain has released a phased plan for a return to what they are describing as the 'new normal' which should be completed by the end of June, although it is subject to revision and may vary between the different regions depending on the scale of the outbreak.
UPDATED: When it comes to spotting symptoms, how is the new coronavirus (also known as COVID-19) different from a cold or the flu? This chart breaks down what we know so far: https://t.co/BAmN8boCyd pic.twitter.com/EMVeFZsPl1

— WebMD (@WebMD) March 11, 2020
---
---
This page was last updated on Friday may 8th
It will be updated with any fresh developments.
---