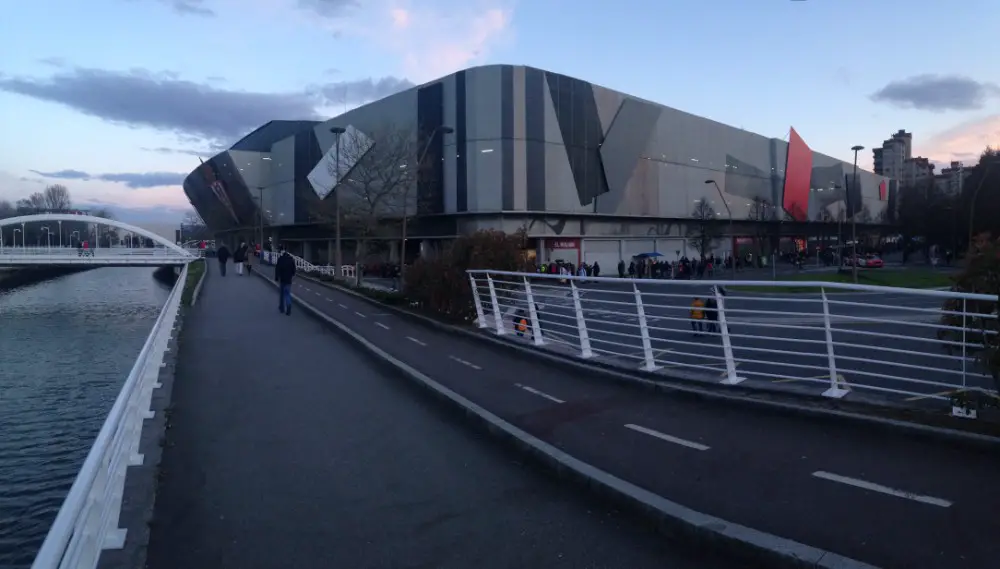 Hugging Spain's blustery northern coastline, Asturias was once the centre of Spain's mining industry but these days it is best known for boasting some of the nation's best countryside and most dramatic scenery. This region is also home to one of the biggest Spanish football rivalries with the clubs from the two largest cities – Sporting Gijon and Real Oviedo, battling it out to be the pride of Asturias. There are smaller Asturian clubs in the lower leagues but the big two are streets ahead in truth, although at the time of writing (April 2020) neither ply their trade in the top flight.
---
Asturias Football Map
Asturias lies on Spain's northern coast, located directly between Galicia and Cantabria. While it is roughly 200 km wide, the major cities are all located in a small corridor in the central part of the region with Aviles and Gijon on the coast, while Oviedo lies roughly 30 km inland. Aside from this small but relatively heavily populated area, most of Asturias is extremely rural and is largely formed of rolling green hills and picturesque countryside.
The map above shows the location of the four Asturian football clubs which feature in Spain's top three tiers as of 2019/20. The two Segunda teams are Sporting Gijon and Real Oviedo, located in the two largest cities. The next biggest city is Aviles but it isn't currently home to a team higher than the Tercera Division.
As well as the B teams of Sporting and Real Oviedo, Asturias has a further two Segunda B outfits. Marino are located in the coastal town of Luanco, just under 20 km to the northwest of Gijon. Meanwhile Langreo are located around 20 km southeast of Oviedo.
---
Asturias Football Guide – The Clubs
The Big Two
Sporting Gijon
Stadium – El Molinon
Capacity – 30,000
Nearest Station – Gijon
While Real Oviedo fans may dispute this, Sporting Gijon could probably be seen as marginally the biggest club in Asturias. They've spent more seasons in the top flight (42) than their rivals and have on six occasions qualified for Europe with their best era starting in the late 1970's and continuing right through the 1980's. They achieved six top six finishes in the Primera in the space of ten seasons during that period when they were inspired by the goalscoring heroics of the legendary Oviedo-born striker Quini.
Sporting haven't really threatened to get anywhere near those heights in recent years and they've spent most of the 21st Century in the Segunda Division where they continue to be following their most recent top flight relegation in 2017.
How to buy tickets for Sporting Gijon matches:
Sporting's 30,000 capacity stadium is one of the largest in the Segunda and while they are one of the best supported second tier teams, average crowds are less than 20,000 meaning it should be simple enough getting a ticket for their games, even on match-day itself. The only exception may be the Asturian derby which does attract larger crowds (26,748 attended the 2018/19 game with Oviedo at El Molinon) and there may be extra police restrictions on match-day sales given this fixture has a reputation as one of the most troublesome in Spain in terms of football violence. Head to the ticketing page of their website for info about upcoming games.
El Molinon is located around a 30 minute walk away from the centre of Gijon and marginally further from the train station. If it's a nice day you can walk to the end of Playa de San Lorenzo, the city's main beach, from where it's only ten minutes further by foot along the banks of the Rio Piles before you reach the stadium.
Real Oviedo
Oviedo stadium by Jsmq, CC BY 3.0
Stadium – Carlos Tartiere
Capacity – 30,500
Nearest Station – Argañosa or Vallobin
Real Oviedo are the other big Asturian club and they are something of a sleeping giant of Spanish football. They were an established top flight club at the end of the 20th Century, enjoying 13 straight seasons in the Primera from 1988 onwards. However just a year after the opening of their shiny new stadium, Oviedo were relegated from the top flight in 2001 and they haven't been back since.
The club suffered from huge financial problems in the aftermath of that relegation and came very close to going out of business on numerous occasions during a period when they dropped as low as the Tercera Division and spent 12 straight seasons in the Segunda B or lower. At one point, they were in a lower tier than Sporting's B team but despite their financial struggles, Real Oviedo continued to produce talented footballers and the likes of Santi Cazorla, Juan Mata and Michu, who all started their careers at the Carlos Tartiere, chipped in to help the club stay afloat in 2012. Oviedo finally returned to the Segunda Division in 2015 and have been there since with the Asturian derby returning after 15 years in 2017 following Sporting's relegation from the top flight.
How to buy tickets for Real Oviedo matches:
Real Oviedo have quite a large overseas following (certainly for a Spanish second tier side) and therefore you should find them helpful should you require tickets with the English version of their website the best place to go for info. Buying on match-day at the stadium also shouldn't be a problem although as with Sporting, demand is much higher for the Asturian derby than regular games and you'd probably be wise to try and buy a ticket in advance for the derby.
Getting to the Carlos Tartiere is relatively straight-forward thanks to its central location and plentiful transport connections. Argañosa and Vallobín train stations are both only around a ten minute walk from the stadium. Oviedo's main train station in the city centre has greater connections though (including direct trains to/from Gijon) and is only around 20-25 minutes by foot from the Carlos Tartiere.
The Best of the Rest
Langreo ground by Asturkian, CC BY-SA 4.0
Aside from the big two, there is a significant jump down in size and stature before you find any other Asturian football clubs. As of 2019/20, there are only two other teams from Asturias currently in one of the top three tiers in Spain, both of which are in the Segunda B (Group 1) which also features the B teams of Oviedo and Sporting.
UP Langreo, founded after the merger of two fierce rivals in 1961, are located in what was once an important mining town southeast of Oviedo. They were an established Segunda outfit in the 1960's but haven't featured higher than the third tier since 1972.
Club Marino de Luanco are Asturias' other 2019/20 Segunda B representatives, based in a small fishing town, on the coast to the west of Gijon. They've never made it as high as the second tier but were promoted back to the Segunda B in 2019 after four seasons in the Tercera. Their Copa Federación triumph of 2001 remains the club's finest hour.
Going further down, Group 2 of the Tercera Division is entirely made up of Asturian clubs. That includes Real Aviles CF, the main team in the third largest city in Asturias. Founded in 1903, they are older than the big two clubs but have spent most of their recent history in the Tercera Division although they did reach the Segunda for two seasons in the early 1990's.
---
Groundhopping in Asturias – Getting Around
Train travel in Asturias by Daniel Luis Gómez Adenis, CC BY 2.0
Despite being a small and not particularly heavily populated region, Asturias does have quite an extensive rail network, which makes getting between the main towns and cities and even into many more rural areas relatively simple.
Oviedo and Gijon are only 30 km apart. It takes roughly 30 minutes to get between the two cities by train with departures every 15 minutes or so during the day. The two cities are connected by line C1 of the Cercanias Asturias. Alsa also run 95 daily buses between the two cities with fares starting at just €2.50. With so many connections, advanced booking is unnecessary.
UP Langreo's stadium is located just a couple of minutes walk from La Felguera train station which is connected to Gijon by Asturias Cercanias Line C-5 and Oviedo by Line C-2.
Luanco doesn't have a train station but it is only a ten minute walk to the Miramar Municipal Stadium, home of Marino, from the town's bus terminal which has regular buses to/from Gijon.
Aviles, which is the closest of the main cities to Asturias Airport, also has direct rail links with Oviedo (Line C-3) and Gijon (Line C-4). The Estadio Roman Suarez Puerta, home of Real Aviles, is a ten minute walk from the train station.
---
Away from the Football
Asturias is a great place to spend a few days or more with distinct cultural traditions, which sets it apart even from other parts of northern Spain. It is also widely regarded as one of the most beautiful regions in Spain with most of Asturias consisting of gentle hills and beautiful countryside.
The green landscape contributes to its reputation as a great place to go hiking. There are a huge number of trails to choose from, with the most challenging found in the glorious Picos de Europa mountain range which is situated in the east of Asturias, close to Cantabria. The Picos de Europa national park is perhaps the biggest travel destination in the region. The River Sella runs from the mountain range before meeting the coast at the town of Ribadesella and is the home of a famous Asturian festival each year where thousands canoe down the river.
The cities shouldn't be overlooked either though and they are the best place to get a feel for the the many unique Asturian cultural traditions. One of the most striking things is their love of cider with the city centres of Gijon and Oviedo filled with sidrerias rather than cervecerias as you find elsewhere in Spain. The practice of 'escanciar' where cider is poured into a glass from a great height is certainly unique and Asturian cuisine also has many famous dishes including the cachapo – a breaded veal dish featuring ham and cheese. While neither has a huge number of tourist sights as such, the two big cities both have nice old towns and are both worth spending at least 24 hours if you come for a football game.
Asturias does have quite an unpredictable and often wet climate but if you visit during the summer months or strike it lucky with the weather at other times of the year, there are a large number of beaches, bays and tiny coves to explore. Having your own vehicle will offer the best chance of reaching some of the more remote ones. Here are some of the best of them.
---
This post on the Asturias football travel was published in April 2020.
If you have any questions about visiting Asturias for football reasons, feel free to get in touch.
---