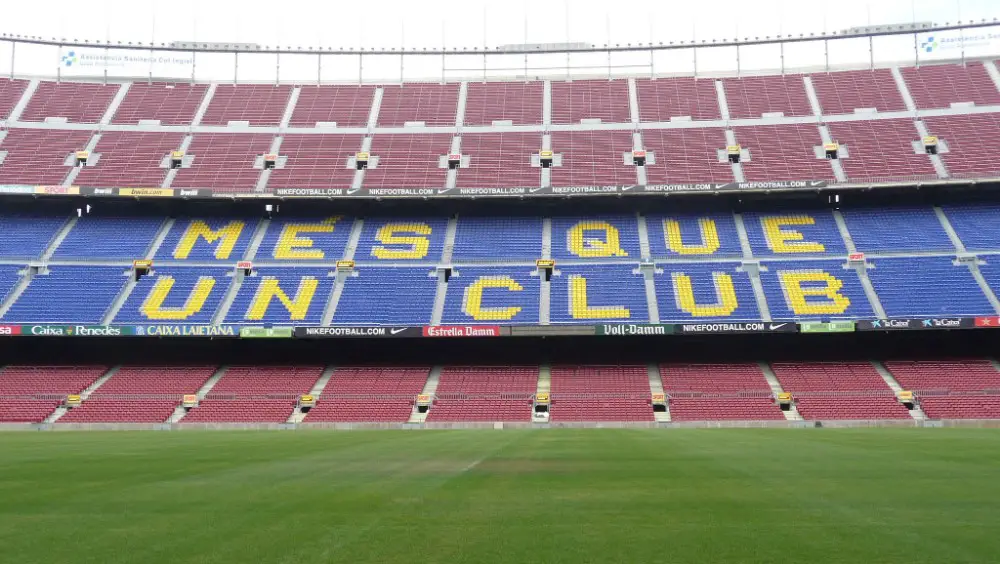 Seven months on from the despair of Anfield, this week Barcelona made the decision that many had been waiting for ever since that awful Champions League Semi-Final collapse. Predictably, it was not handled well by this current Barça board but the end result is that Ernesto Valverde is no longer the coach and Quique Setién is, just seven months on from his sacking by Real Betis.
The way this was handled makes it clear that Setién was not top of Barcelona's list of potential candidates to replace Valverde. Over the past week the likes of Xavi and reportedly Mauricio Pochettino have turned the job down. However when the dust settles on the drama of the last few days, all that may not matter.
This is Setién's dream job and one he would never have dreamt would come his way when he was coaching in the Spanish lower leagues just a few years back. He won't care one bit how it has come about and can at least comfort himself in the knowledge that he has for some time had admirers amongst the Barça hierarchy and significantly has a contract for two and a half years and not just until the end of the season as many expected when rumours of Valverde's imminent sacking began to gather place.
Who is Quique Setién?
His Coaching Career to Date:
Racing Santander (October 2001-June 2002) – 50% Wins
Poli Ejido (July-November 2003) – 15% Wins
Equatorial Guinea (July-October 2006) – 0% Wins
Logroñés (May 2007-January 2008) – 25% Wins
Lugo (June 2009-July 2015) – 38% Wins
Las Palmas (October 2015-May 2017) – 33% Wins
Real Betis (May 2017-May 2019) – 43% Wins
Followers of Spanish football (outside of the 'big two') will be well aware of Setién given he has recently coached in La Liga with Las Palmas and Real Betis but he will be a relatively new name to many who don't.
Setién was a fairly distinguished player, featuring mostly for his hometown club Racing Santander and he appeared for the Spanish national team on three occasions. It was Racing that gave him his first job in management but his early coaching ventures were not instant successes as the Cantabrian struggled for opportunities. He briefly dived into international management (for all of one game) with Equatorial Guinea and even beach soccer, serving at one point as the technical director of the Russian beach soccer team.
It was at Lugo where he really established his reputation as one of the most promising emerging coaches in the Spanish game though. He took the small Galician club to the Segunda Division for only the second time in their history and established them there, all whilst playing a more eye-catching brand of football than you typically find in the Spanish second tier.
Almost two full seasons at Las Palmas followed as Setién proved his methods could cut it in the top flight and while things ultimately turned sour in Gran Canaria as his relationship with the board collapsed, Setién had done enough to secure himself a big job opportunity at Real Betis. A 6th place finish, European qualification and some memorable victories, including a 5-3 win at city rivals Sevilla, in his first campaign at the Benito Villamarin further enhanced Setién's reputation.
However again there was a difficult ending to his time at Betis as his relationship with the fans broke down and the club finished 10th in La Liga despite winning at both the Bernabeu and Camp Nou in the 2018/19 season. Betis' 4-3 victory at Barcelona in November 2018 was the only defeat Barça suffered in 69 home matches during Ernesto Valverde's reign besides a Supercopa defeat in his very first home game at the helm.
Barcelona 3-4 Real Betis ✅
Real Madrid 0-2 Real Betis ✅

Setien is first away manager to win at Santiago Bernabeu and Camp Nou in a single LaLiga season since Gregorio Manzano for Mallorca in 2002/03 ? pic.twitter.com/fRiTxYPraM

— Goal (@goal) May 19, 2019
Setién's playing Philosophy
Quique Setién is a self-confessed Cruyffista having frequently talked about his admiration for the Dutch maestro who provided the foundations for Barcelona's modern identity on the pitch.
Possession football is bordering on an obsession for Setién, or at least that's the conclusion anyone who has watched his teams play would naturally come to. He has often been dismissive of other methods of playing, notably pouring scorn on Leganes' direct approach after a 3-0 defeat at Butarque last season.
Setién once stated 'I do not agree that the coach has to adapt to the players. There was a time when I thought about it, but that was because I did not understand football.' That unwillingness to adapt has drawn criticism but it may also appease sections of the Barcelona fanbase who feel the club's identity has been eroded in recent years under the management of Luis Enrique and particularly Ernesto Valverde.
What went wrong at Betis?
While his style of football may seem like a perfect fit for Barcelona, there is an underlying and slightly bizarre reality that Barça have just replaced a man who has won back-to-back league titles and leaves them top of La Liga again, with a man who was sacked by a mid-table team only seven months ago.
Results tailed off badly in Setién's second season in Seville and so did the entertainment value that had been a big feature of his first campaign. To some extent, teams wised up to his side's style of play and began to show Betis far more respect by dropping very deep. Frequently Betis patiently passed and probed but couldn't find a breakthrough and they ended the campaign with only 44 league goals, just one more than relegated top flight debutants Huesca.
May 2019 – Quique Setién is effectively hounded out of the Betis job by angry fans, winning just 8 of his final 30 games.

January 2020 – Setién is appointed Barcelona boss, replacing a guy who has won back-to-back league titles.

It's a funny old game.https://t.co/z5mZE3jps8

— LaLigaExpert (@LigaExpert) January 13, 2020
While Setién is perceived to have retained the support of the dressing room and largely the board, it was the breakdown of his relationship with the Betis fans that largely proved his undoing. Cries of 'Quique, vete ya' got louder and louder as the 2018/19 campaign came to an end with supporters bored by what they perceived as slow, dull football and increasingly frustrated by results.
There was also a sense that they simply didn't take to Setién the man. He has since admitted that his Northern persona and background made it more challenging for him to connect with the passionate Andalusian fans. A series of misjudged comments in the press also didn't help matters including his claim that former Barcelona defender Marc Bartra 'must be doing something wrong to be at Betis.'
Setién's Barcelona – What to Expect
At Barcelona, he will have the luxury of working with better players, including the world's very best and he'll also be in a setting that is more likely to embrace his style of football. There are still plenty of unknowns in terms of what exactly to expect from Setién's Barcelona but we can make a few pretty good educated guesses.
Astronomical Possession Figures
Quique Setien's teams are known for playing with possession and eloquence. Real Betis were no different.

Back in Dec 2017, we profiled Quique Setien's tactics at Real Betis:https://t.co/Q2j0aLRMxl#WhiteboardFootball pic.twitter.com/OyGkTdFI5A

— Tifo Football (@TifoFootball_) January 14, 2020
Barcelona already average 61.1% possession in La Liga this season, which is easily the most in La Liga. Under Setién, that domination of the ball is sure to grow even further. He will be more keen for his side to play it out from the back than his predecessor and may place a greater emphasis on the midfield rather than simply getting the ball to Messi as quickly as possible, which often felt like the primary tactic under Valverde.
To put things in some perspective, Real Betis' possession went from 48.7% in their final season before Setién to 55.9% and 59.4% in his two years at the helm (3rd and 2nd in La Liga). We can expect to see a similar rise in Barcelona's figures.
Pretty Football but Fewer Goals?
There is an assumption that Barcelona are going to be instantly more entertaining under Quique Setién and that what lies ahead is a sea of goal-fests and thrillers. However it may not be that simple.
Setién's methods didn't work as well when teams started to park the bus against Betis in his second season and he will have a lot more of that to deal with as Barcelona boss. The goal-fests of his first season in Seville were gradually replaced by games that were often more resemblant of chess matches with his side's often lethargic passing approach giving opposing teams time to get into position and close off any gaps.
Of course, things should in theory be a lot easier in that situation with the quality of players he will have at his disposal in Catalonia but teams with an organised defensive structure could still make life frustrating for Barcelona.
Under the much-criticised Ernesto Valverde, Barcelona fired in 49 goals in their opening 19 league games this term, 13 more than any other team. At home, they have been particularly destructive, scoring 3.78 goals per game on average at Camp Nou in La Liga so far this season. While the football may be 'prettier', don't be surprised if we see a small drop-off in both counts over the second half of the campaign.
A Solution to Barça's European Away Day Blues?
The principal reasons why Ernesto Valverde is no longer the Barcelona coach can be traced back to two matches: Anfield and Rome. Both were abysmal, unforgivable performances and results as Barça somehow managed to let large 1st Leg advantages slip to exit the Champions League.
Valverde was perhaps fortunate to survive the latter (despite his domestic successes) and a series of unconvincing away performances this season pushed the board closer to the decision they made this week.
Appointing Quique Setién of course does not guarantee an overnight solution to Barcelona's away day blues but under the 61 year old, there will at least be the sensation that this is a new Barça which will help banish the mental scars of the past two years in away Champions League knockout ties.
It's also notable that Setién's very best results as Betis boss came in games that were supposed to be the most challenging. He won at the Bernabeu in both seasons with the Andalusian club and also guided them to one of their best ever European results, a 2-1 win at the San Siro against Milan.
Real Betis boss Quique Setien is the only away manager to win at the Santiago Bernabeu & Camp Nou in La Liga in the last 10 seasons.

Sergio Busquets gifted his shirt to Setien after the game: "To Quique with appreciation and admiration for your way of seeing football. A hug." pic.twitter.com/wLoBgTwJiV

— FourFourTweet (@FourFourTweet) November 12, 2018
There was also of course that 4-3 win at Camp Nou, perhaps the day when Setién convinced the powers that be in Barcelona, that he was at the very least a worthy candidate for the job. After that game, Sergio Busquets handed Setién a shirt (as per Setién's request) with the message 'To Quique, with appreciation and admiration for your way of seeing football.'
Fourteen months on, Busquets will be working under Setién and we will soon find out whether this is indeed the marriage made in heaven that followers of Barcelona are desperately hoping for.
---
by Mark Sochon (@marksoc1)
---