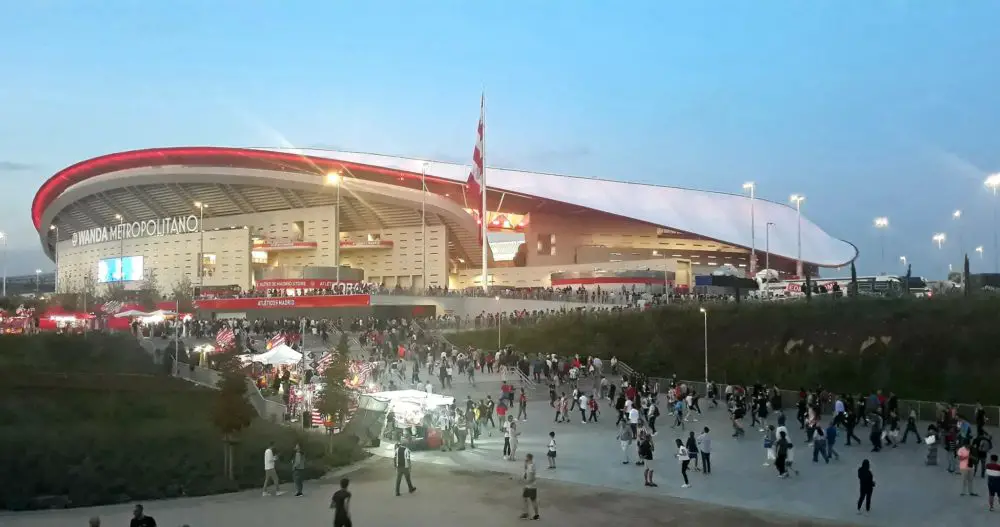 Since his arrival as head coach at Atlético de Madrid, former midfield general Diego Pablo Simeone has rightly assumed hero status amongst supporters of the club. Under El Cholo's watch his charges have contested two Champions League finals, losing out to Real Madrid after Extra Time in 2014 in Lisbon and two years later in Milan on penalties – sickeningly from an Atlético perspective against the same opposition. Atleti have won La Liga, the Copa del Rey and two Europa League's under his guidance and have finished runners up to Barcelona in each of the last two league campaigns.
In Atlético terms or Spanish terms away from the 'big two' this is a very impressive haul and his reign has been a definite success. Atlético are hard to beat, superbly organised and pride themselves on outworking their opponents. Such commitment to getting over the line is surely testament to their Argentine coach. It has been said that a team should mirror its coach and Atlético have certainly done this over the last eight years and given everything as a squad to consistently be challenging for honours in Spain.
This has all been achieved as the club moved stadium, leaving behind the fortress that was the Vicente Calderon in the south of the city and settling in to the Metropolitano to the east of Madrid. With wealthy Chinese and Israeli investors, Atlético are no longer the small, poor relation in Madrid and certainly are well able compete in the transfer market with the top European clubs.
A clear example of this was the €126 million paid to Benfica for João Félix over the summer transfer window. The use of Félix or fitting him into the system is still clearly a work in progress though. Félix has been played mostly alongside or just behind Álvaro Morata given the option to alternate Morata with Diego Costa has been taken away from Simeone as Costa remains injured.
Atlético have the spending power and can recruit high calibre players but the defensive, cautious, counter attacking style which Simeone has used successfully without question in the past, remains the same. Atlético were right in the game with fifteen minutes remaining in their most recent home match against Barcelona, with the game poised at 0-0. Simeone replaced Félix with Vitolo which drew whistles and clear disapproval from sections of the Metropolitano crowd.
Is it in Simeone's plan to go all out for three points in these cases or is there still an element of inferiority towards the big two? Barcelona are far from their strongest at present, particularly in last week's game and were at times grasping for air in the First Half under periods of intense Atlético pressure. A win for Atlético would have put them back in a strong position to contend for the title. While Lionel Messi did his thing and won the game with a piece of individual brilliance, perhaps the heads dropped a touch for Los Rojiblancos when the Félix substitution was made. Vitolo falls more into the Correa and previously Gameiro category, all huff and puff, minimal end product whereas Félix makes things happen. Chance missed Atlético.
Joao Félix #AtletiBarca pic.twitter.com/d2zgIPOQhr

— SPORT WORLD HQ (@SportW4HQ) December 1, 2019
While Atlético have finished runners up in the last two seasons, in the 2017/2018 campaign their xG (expected goals) was a paltry 46.2 while Barcelona stood at 77.9 and Real Madrid at 80.3. Defensively xGA (expected goals against) was a miserly 35.7 and clearly this is where their success has stemmed from. Simeone's teams have always been extremely difficult to break down and always work hard and hang in there with opponents.
Throughout Simeone's reign quality forwards like David Villa, Costa particularly in his first stint at the club and more so Antoine Griezmann have provided the finishing touches to secure important victories in close games for Los Colchoneros. Griezmann top scored with fifteen league goals in his last season with the club and is clearly missed.
While booed last weekend on his return to the Metropolitano, he bought in to Simeone's philosophy and worked as hard as anyone. The loss of Diego Godin to Inter and Rodri to Man City also left big boots to fill at the back and in the centre of the park and a 0-0 draw away to Villarreal on Friday has seen Atlético slip to 7th position.
While they are only five points from the current top three, it seems like the lack of goals or attacking threat could see Atlético come back in to the pack this season and as a result Wednesday night's 'must win' Champions League home tie against Lokomotiv Moscow takes on huge significance after another disappointing week.
Can Simeone adapt, change his style, play a more attacking game or are the players he recruits the ones that need to adapt? João Félix lit up Benfica's Europa League campaign last year and has shown promise under Simeone. Will the twenty year old develop in to the number 10 creator/scorer of goals that he has shown signs he can be or is he simply at the wrong club to do so.
[?] Training session to kick off preparations for the clash ? @fclokomotiv_eng
➕?➡ https://t.co/hmYnBcvdLH
⭐ #UCL
⚽ #AtletiLokomotiv
?⚪ #AúpaAtleti pic.twitter.com/W2z6s9sh8t

— Atlético de Madrid (@atletienglish) December 7, 2019
Perhaps time is finally starting to run out in Madrid for Simeone but there is no doubting his professionalism or sense of duty to Atlético with the club twitter account posting photos of the team training early Saturday morning after Friday's disappointing draw away to Villarreal, a clear sign that the coach is determined to make things right.
But Simeone may need to implement a 'work smarter not harder' approach to see Los Colchoneros start scoring more freely and more importantly climbing the table once more.