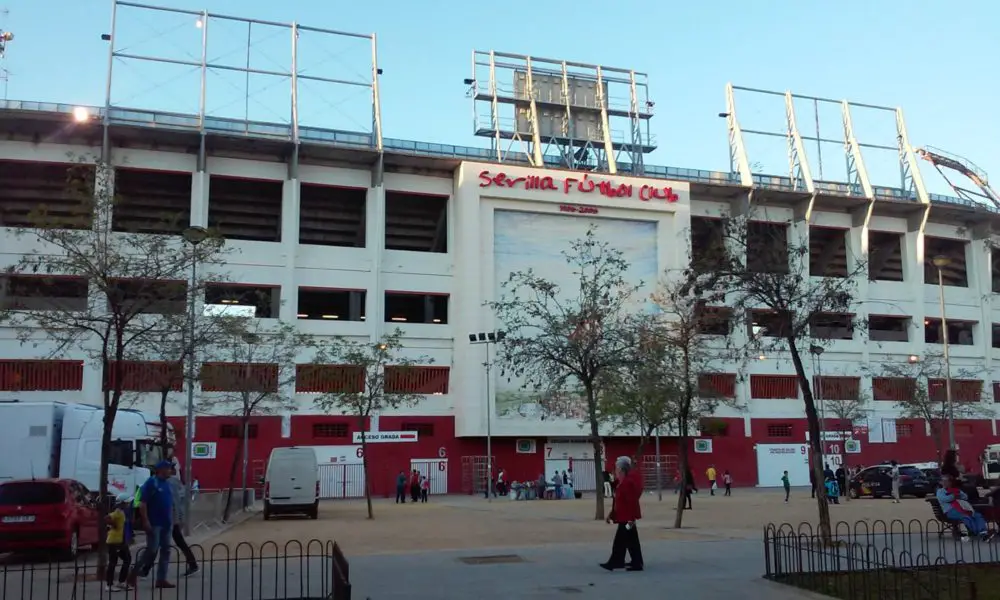 Presently sitting 3rd in La Liga, it would seem all is well at Sevilla FC. The club's new coach Julen Lopetegui has done a fine job of incorporating a trove of new signings brought in by club sporting director Monchi. However, a look under the hood of the Sevilla attack betrays worrying signs of a side capable of possession, but unable to create and put away chances. Up to this point Lopetegui has been able to outrun the realities of his precarious tactics, but changes will have to be made if the Andalusian side hopes to maintain its current pace.
For the most part, Lopetegui has done an admirable job with a squad full of fresh faces; 14 matches into the season and the former Spanish national team coach seems to have found his preferred eleven and favoured tactics. Sevilla endeavour to play a possession style of football – inherent in which is the belief that by controlling the ball in safe areas of the pitch, one is able to starve the opposition of possession and limit their attacking forays.
As pictured below, Sevilla use a fluid 3-4-3 formation in possession with Fernando, the defensive midfielder, slotting in to form a back three with centre-backs Diego Carlos and Jules Koundé. In midfield, Lopetegui opts to use a double-pivot of Joan Jordán and Éver Banega, who while given some freedom, generally hold safe positions in the middle of the park. Meanwhile, on the flanks, full-backs Jesus Navas and Sergio Reguilón, tend to provide the width and commonly switch with their wing partners, Lucas Ocampos and Nolito. The offence tends to be very malleable on the flanks, but becomes remarkably rigid in and around the 18-yard-box where striker Luuk de Jong plays the arcane role of a static target-man.
This setup has allowed Sevilla to enjoy the league's fourth highest possession stats – averaging 54% of the ball per match. It has also proved to be a sound defensive system, as the club boasts the fifth best expected-goals-against (xGA) and expected goals differential (xGDiff/90) in La Liga. What is more, Sevilla has only given up more than one goal three times this season.
Another crucial aspect of Lopetegui's system is an intense high-press which has been made achievable through the addition of hard-working players such as Reguilón, Jordán and Ocampos. Unfortunately, while the system has its benefits, there are worrying signs it could also be a hindrance – primarily Sevilla's tendency to drop off in the Second Half. At present, Sevilla are a stellar First Half side – having only entered Half-Time once this season in a losing position. Unfortunately, the Second Half has proved less fruitful with Sevilla conceding 64% of their goals after 45 minutes. Moreover, because Lopetegui's side struggles to put teams away, these goals have tended to either equalise or win the match for their opponents.
This is where the pitfalls of Lopetegui's system tend to manifest themselves. In terms of non-penalty goals/non-penalty expected goals (G-NPxG), Sevilla ranks decidedly mid-table. A major factor being that while registering tons of shots (third most in La Liga), Sevilla's attempts tend to be of low-quality– sitting eighth in the league in NPxG/shot. For all their possession, Sevilla are struggling to manufacture high-quality scoring chances. This is corroborated by the club's woeful through-ball and passes into the box totals where they sit 16th and ninth respectively.
The lack of offensive production is a by-product of both Lopetegui's system and personnel selection. As mentioned earlier, Sevilla is positionally fluid on the wings, which provides the side with a great deal of width. However, the propensity toward wide play means there is very little combination passing occurring in and around the 18-yard-box. The only Sevilla players to have completed more than one through-ball this season are Banega, Jordán and Óliver Torres – none of whom have managed more than three. Meanwhile, the player most likely to complete a pass into the penalty area is Navas – a wide, full-back.
Lopetegui's personnel selection has not helped matters; while Ocampos has been a bright spot since his arrival, it is important to note that the Argentinian is vastly outperforming his NPxG– putting him fifth in the league in terms of overproduction. This is not to deride Ocampos' performance thus far, but it does indicate that eventually he will regress closer to the mean at which point Sevilla will need to find goal-scoring elsewhere. It is unlikely this will come from Ocampos' wing partner, Nolito, who has shown a propensity towards poor shot selection. If Sevilla were to find goals it would likely be from their striker, de Jong. However, the Dutch international has shown a distinct lack of composure in front of goal – currently ranked last in La Liga in G/NPxG differential – which is concerning because the numbers would indicate he is getting decent chances.
Sevilla will hope that the worm will eventually turn for de Jong, but in the meantime, within Lopetegui's system, the target-man brings little else to the offence. His expected assists per 90 (xA90) is the lowest of the starting eleven outside the defensive back three, and despite playing striker, he has completed only three passes into the 18-yard-box, and not tallied a single through-ball all season. Put simply, if de Jong is not able to finish he tends to bring very little else to the party.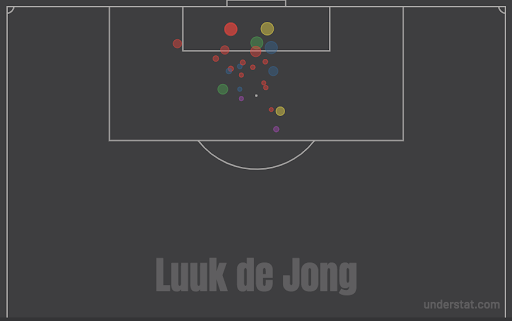 Sevilla's lack of decisiveness offensively would indicate the need for new ideas and potentially new personnel. At the moment it would seem that the majority of the side's issues stem from positional rigidity at centre-forward. De Jong's inactive offensive positioning means he is predictable and therefore easy to mark. Moreover, it also ensures he plays little to no part in any combination play in-and-around the 18-yard-box. This runs counter to the frontline flexibility most dynamic offences across Europe are looking to achieve – the best example of this being Liverpool's current front three.
One antidote might be to try different personnel – the most obvious of which being Munir El Haddadi, who has prove to be highly efficient in limited league minutes so far this season. The 24-year-old has comparable xG90 and xA90 numbers – showing he has a more balanced approach to offence and along with fellow striker, Manus Dabbur, has been exceptional in the Europa League – mustering five goals in less than three hundred minutes. Moreover, Lopetegui might try and have his wingers hold more consistent inverted positions in the opponent's half spaces. By doing this, it might encourage more control in these areas and better combination play in the attacking third.
These changes will be difficult to implement given that Sevilla is currently enjoying decent form. Nonetheless, eventually the club's modest offensive numbers will catch up and more innovative strategies will have to be employed. For as well as Sevilla have been playing defensively, the squad is still susceptible to lapses in judgement and counterattacking moves. Lopetegui's side rarely employs a low-block and likes to have control of the match. However, it must develop a ruthless streak in front of goal if it is going to continue to challenge for the top four.
---
For more from the author, head over to The Footballing.
---