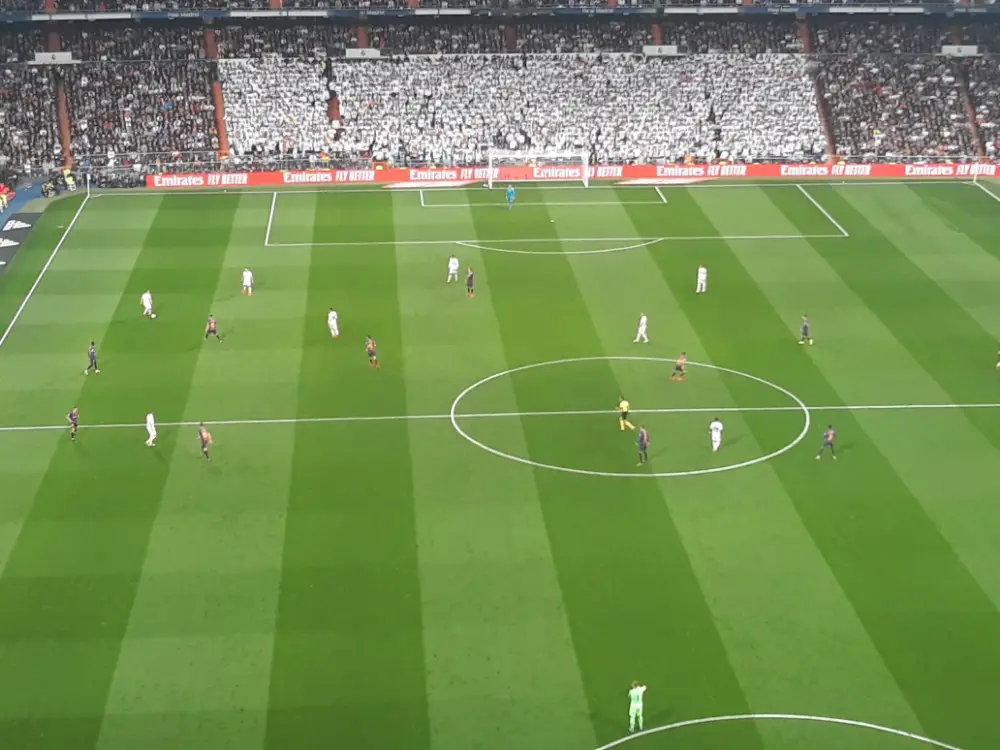 Yesterday marked exactly eighteen months since Real Madrid were crowned European champions for the 13th time with their 3-1 victory over Liverpool. In truth, it feels much longer ago than that. So much has unravelled for Los Blancos since then that even their match-winner that evening in Kiev is now public enemy number one.
Real Madrid have veered from one crisis to another since they completed a remarkable hat-trick of Champions League wins. Even as recently as September, they appeared to sink to fresh depths with a 3-0 defeat in Paris against what was basically PSG's second-string forward line. While a home draw in a competition they have so often dominated may not be a sign that Los Blancos are well and truly back, the performance for much of Tuesday's 2-2 draw against the same opposition was the latest in a series of indicators that suggest Real Madrid are on the right track again after 18 months of turmoil.
How things unravelled after Kiev
Real Madrid win the #ChampionsLeagueFinal2018 after defeating Liverpool in Kiev https://t.co/3nbQc1Sfsh pic.twitter.com/DjEZjjT5X4

— ITV News (@itvnews) May 26, 2018
While there was always the suspicion that Real Madrid's 2018 Champions League success papered over some pretty significant cracks, nobody could have predicted quite how quickly things would unravel.
Just five days after the Final, Zinedine Zidane caught just about everybody by surprise by announcing his resignation. Even though they'd flirted with the idea of replacing the Frenchman, Real Madrid had not seriously planned for that eventuality and ended up going down the messy road of appointing the Spanish national team boss on the eve of the World Cup, even though Julen Lopetegui was nowhere near the top of their list of preferred targets.
Cristiano Ronaldo followed Zidane out the Bernabeu exit door the following month and the 2018-19 campaign quickly descended into a horror movie for followers of Los Blancos as an array of gruesome scenes played out before it slowly grinded to a long agonising halt, by which time many had simply stopped watching.
There were 12 league defeats, their worst record in two decades, not to mention a club record goalless streak which quickly saw Lopetegui's reign brought to an end. There was humiliation against Ajax and Barcelona as Real Madrid essentially exited three competitions in the space of the week with another sacking the almost inevitable outcome. Even the unexpected return of Zidane in March failed to truly lift the gloom nor improve the results.
Karim Benzema was just about the only Real Madrid player who could look back on the 2018-19 season with any sort of pride and even he failed to deliver in the big moments when it really mattered.
Players Returning to Form
Even during the darkest days of last season (and there were plenty to choose from), Real Madrid's problem was never a lack of talent. Their woes were rather too simplistically blamed on the departure of Cristiano Ronaldo. While the Portuguese was so often the difference-maker in those tight European knockout ties, Los Blancos still had more than enough talent to at least put themselves in a position to compete for silverware in his absence. However with far too many players under-performing, their season was over before the dawn of spring.
Toni Kroos vs PSG:

90 minutes
124 touches
100/102 Accurate passes
98% Pass completion
7 Key passes
3 tackles
6/6 long balls
2 shots on target

Absolute Masterclass from German Sniper pic.twitter.com/KZMdrrIDfb

— TK (@TK8Pic) November 26, 2019
Whether it was a collective World Cup hangover or a more systemic problem last term, there are now finally signs that the tide is turning, and one by one, Real Madrid's best players are returning to form.
The biggest transformation has been in midfield. Casemiro has been the standout holding midfielder in La Liga and perhaps all of Europe so far this season. Toni Kroos has bounced back brilliantly from what was almost certainly his worst season in the Spanish capital while Luka Modric has shown tantalising glimpses of the kind of form that helped him win the Ballon D'Or, none more so than at the weekend when he scored one and created two as Real Madrid came from behind to beat Real Sociedad 3-1.
Defensively, things look to have upped a notch too with five straight clean sheets between October and November. After a rocky start to the season, Thibaut Courtois is starting to look more assured in goal even if he has work to do to convince the ever demanding Bernabeu crowd of his talents. The likes of Marcelo and Raphael Varane are also looking sharper than last term although that's not saying a great deal.
League & Champions League since Ronaldo left Madrid:

Karim Benzema – 39 Goals (1 every 129 minutes) & 14 assists.

Cristiano Ronaldo – 33 Goals (1 every 144 minutes) & 11 assists.

— LaLigaExpert (@LigaExpert) November 27, 2019
Karim Benzema has again been the standout performer, perhaps even improving on the heights he hit last season. He has actually scored and created more goals than Cristiano Ronaldo has managed for Juventus in the season and a half that has passed since Real Madrid's former talisman departed.
The Frenchman also increasingly looks to be getting on the save wavelength as Eden Hazard who has made a slow start to life in Madrid. That too can only be a positive sign as we head into the middle part of the season and if Hazard continues to improve, Real Madrid could yet emerge as serious Champions League contenders come 2020, armed with the confidence that must come from the knowledge that they've never failed to win the trophy when Zidane has been coach.
Valverde the Catalyst?
The return of Zidane and for once a long summer break may have helped to spark some life back into these Real Madrid players. However it seems to be no coincidence that Real Madrid's performances have picked up since a 21 year old Uruguayan started to feature more heavily.
Fede Valverde is looking more and more like the missing piece in the jigsaw that Real Madrid never knew they had. He brings energy, pace and dynamism to a midfield that for all its considerable qualities has been accused of being slow and at times lethargic.
What is there left to say about Fede Valverde anymore?

The 21-year-old is exploding this season and is fulfilling the potential he has shown since his Peñarol days. Valverde is such a complete midfield talent, sky is honestly the limit for him. pic.twitter.com/nADXhcvegP

— Warriors of Uruguay (@UruguayanHeroes) November 26, 2019
While Los Blancos have had the likes of Dani Ceballos and Marcos Llorente knocking on the door of the starting eleven in recent seasons, nobody has come and banged it down quite like Valverde has managed over the past couple of months. Suddenly and in spite of their good form, neither Modric or Kroos are guaranteed starters and that kind of competition is something that can only be good for the team in the long run.
Add to that the emergence of Rodrygo and the fact that Real Madrid have the likes of Martin Ødegaard and Achraf Hakimi to bring back from loan spells in the non too distant future and things are suddenly looking considerably brighter for Los Blancos after a tumultuous eighteen months.