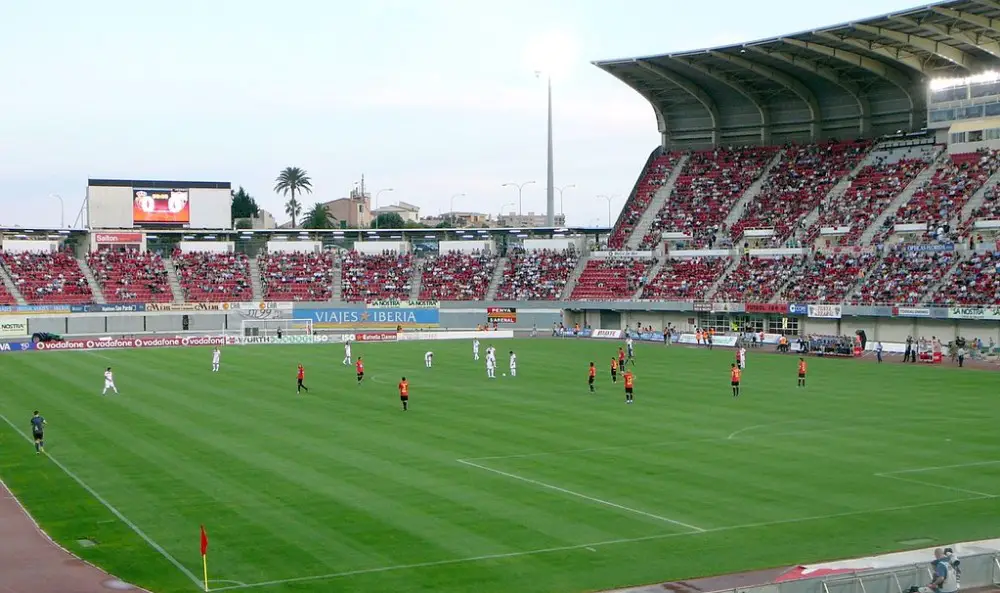 The new season got underway at the weekend with Mallorca, Granada and Osasuna all making their top flight returns following promotion from the Segunda last season. The three newly promoted teams in La Liga kicked off the campaign as three of the four favourites for the drop with the bookies (along with Valladolid). However with the trio collecting an impressive total of seven points on matchday one, the early signs are that they may just surprise a few people this term and recent history appears to back that up.
How often do newly promoted teams survive in La Liga?
| | | | |
| --- | --- | --- | --- |
| La Liga Season | Promoted as Segunda Champions | Promoted as Segunda Runners-Up | Promoted as Play-Off Winners |
| 2018/19 | Rayo (20th) | Huesca (19th) | Valladolid (16th) |
| 2017/18 | Levante (15th) | Girona (10th) | Getafe (8th) |
| 2016/17 | Alaves (9th) | Leganes (17th) | Osasuna (19th) |
| 2015/16 | Betis (10th) | Sporting Gijon (17th) | Las Palmas (11th) |
| 2014/15 | Eibar (18th)* | Depor (16th) | Cordoba (20th) |
| 2013/14 | Elche (16th) | Villarreal (6th) | Almeria (17th) |
| 2012/13 | Depor (19th) | Celta Vigo (17th) | Valladolid (14th) |
| 2011/12 | Betis (13th) | Rayo (15th) | Granada (17th) |
| 2010/11 | Real Sociedad (15th) | Hercules (19th) | Levante (14th) |
| 2009/10 | Xerez (20th) | Zaragoza (14th) | Tenerife (19th) |
*Eibar survived in 2014/15 due to Elche being administratively relegated for financial problems.
While Real Valladolid were the only one of the new boys to survive in 2018/19, the recent trend has been much more in favour of the newly promoted sides staying up than going down.
Some key points to take from the record of newly promoted teams in La Liga over the past decade:
22 of the last 30 newly promoted teams have survived (73%).
Only twice did more than one newly promoted side go down (2009/10 & 2018/19).
All three teams have survived in 4 of the last 8 years.
Teams coming up via the play-offs have been just as likely to survive as the Segunda champions (70% have stayed up in both cases).
Segunda Division runners-up have outperformed both the champions and play-off winners with an 80% survival rate.
In the last decade, only 3 times has the bottom position in La Liga been filled by a newly promoted team – Xerez, Cordoba & Rayo.
The only newly promoted side to finish 18th was Eibar but they survived when Elche were demoted due to financial problems.
11 out of 15 new arrivals have stayed up over the past 5 years and 7 remain to this day however Depor, Las Palmas, Sporting Gijon and Girona have since been relegated.
Is it getting tougher for the newly promoted teams in La Liga?
?La Liga Distributes $1.5B Of TV Money; Barcelona, Real Madrid and 16 Other Teams Received Record Payouts.

Barcelona pocketed €154M ($176M) from a total TV pool of €1.33B ($1.52B).[Forbes] pic.twitter.com/Z88kcTlCNR

— Blaugrana Realm (@Blaugranarealm) January 8, 2019
While it would be wrong to jump to any conclusions purely based on last season when the new boys finished 16th, 19th and 20th, there is reason to believe that the task of staying up is getting tougher for sides coming up from the Segunda Division. A big factor in that is the rising TV revenues that La Liga is generating and more pertinently the increasing share that bottom half sides are receiving.
While there is still much greater inequality in terms of the way TV money is distributed in La Liga compared to the Premier League, steps have been taken to address the imbalance resulting in the smaller clubs getting a bigger piece of the pie. There has been evidence of the knock-on effect of that in this transfer window. Leganes have a net spend of €18.75 million while that figure is around €10 million for Levante and Alaves. These are significant shifts from just a couple of years ago when the onus was on the smaller clubs to recoup money in the transfer market just to make ends meet. While Osasuna have spent some money in this window, all the newly promoted clubs are going to be largely dependent on players successfully making the step up from second tier to top flight football.
While not an exact measure, transfermarkt lists the total value of the squads of each of the 20 teams in La Liga. The combined value of the squads of Mallorca (€24.35m), Granada (€30.1m) and Osasuna (€42.3m) is according to their figures roughly the equivalent of the squad of Leganes (€94.6m) or Alaves (€95.6m). That highlights the gulf between the two divisions and the fact that established top flight clubs Celta Vigo and Villarreal slipped into relegation scraps last term was further testament to the increasing competitiveness of La Liga.
Can Mallorca, Osasuna & Granada stay up?
? First game back in #LaLigaSantander.
? First WIN back in #LaLigaSantander.

❤️ @RCD_Mallorca ?#RCDMallorcaEibar 2-1 pic.twitter.com/yY1bmn5SNN

— LaLiga (@LaLigaEN) August 17, 2019
On the evidence of the opening weekend, all three newly promoted sides look like they will at least be competitive at this level and have every chance of defying the odds and beating the drop. The trio are all clubs of some size and stature certainly in comparison to the recent trend which has seen plenty of genuine minnows such as Eibar, Leganes and Huesca rise to join the Spanish elite. If they can beat the drop this season, they'll all fancy their chances of re-establishing themselves at this level.
Osasuna are perceived to have the best chance having come up as champions even if recent history suggests that winning the Segunda Division offers little advantage on finishing 2nd or winning promotion via the play-offs. El Sadar was a real fortress for them last term and is the most intimidating of the new venues in La Liga this season. That should offer them an advantage and while their weekend victory at Leganes was perhaps not fully merited, their ability to get a result on the road so early certainly bodes well.
Mallorca have been away for the longest and are the bookies favourites to go down but they were also winners on the opening weekend. They're at home again on matchday two, with Real Sociedad the visitors to Son Moix and they will clearly take plenty of momentum and confidence into that match. Another victory would give them an excellent platform from which to build but following back-to-back promotions, it's hard to see them not being involved in the relegation scrap.
Perhaps the most intriguing addition is Granada who were very strong defensively last season and were very good in pre-season, winning all of their matches. That raised hopes that they might just do a bit better than anyone was expecting but nobody seriously thought they would go to Villarreal and score four times on the opening weekend. While that was only good enough for a point, the result certainly eased fears that a lack of a goal threat would be their main achilles heel.
History strongly suggests that at least one of these sides will stay up this season. It could be more than that but it's still hard to find three other teams that look weak enough to go down following some significant and in many cases smart investment from last season's bottom half.
---
Read our season previews for the newly promoted teams here: Mallorca | Granada | Osasuna
---