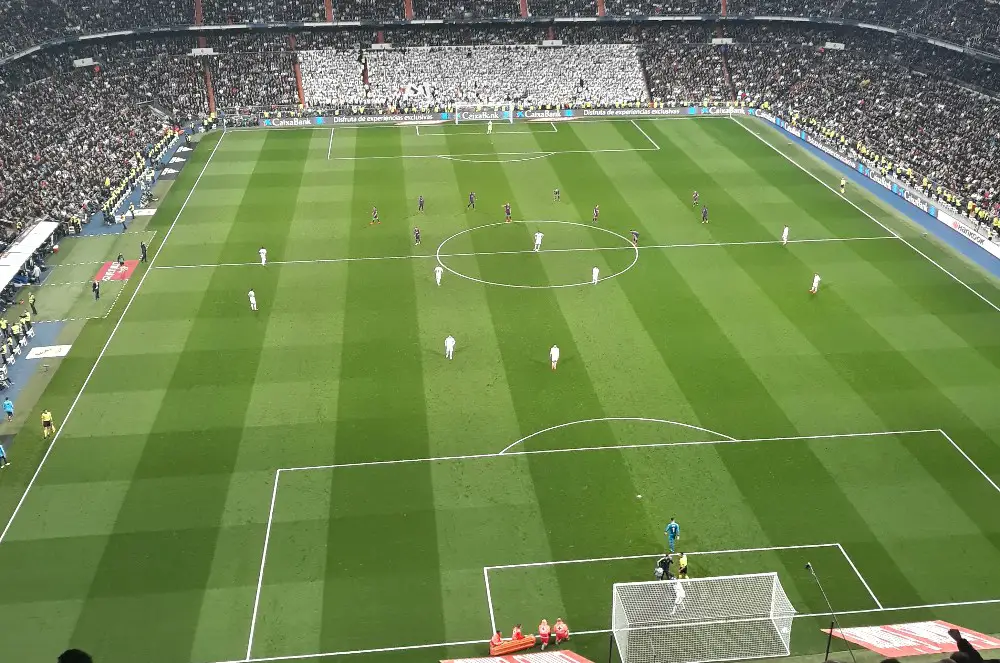 Spanish football returns in August after the summer break but it does so with some pretty significant changes. For starters the Supercopa, the traditional curtain-raiser to the new season, has been moved to January with a new four-team format while the Copa del Rey also returns with a fresh new look which should really open the competition up to the smaller clubs and produce more shocks and upsets. Read on for some of the key Spanish football dates for the new 2019-20 season in La Liga and the other main cup competitions. Note that the Spanish football authorities do sometimes change their mind so there could be minor alterations to this schedule:
---
2019 – 2020 Spanish Football Dates
---
16th-19th August 2019 – La Liga Opening Weekend
The new league season starts in mid-August. The opening weekend features several intriguing fixtures including Barcelona's trip to Bilbao and Celta Vigo's home game with Real Madrid. It will also see new boys Osasuna, Mallorca and Granada make their return to the top flight following promotion.
The League is currently in dispute with the Federation (again) over the staging of Friday and Monday games, both of which were the subject of fan protests last term. However it is now expected we will have matches on both Fridays and Mondays with the new campaign set to start on Friday night in Bilbao as the champions start their title defence at San Mames.
17th-19th September 2019 – Champions League & Europa League Group Stages Commence
The major European action commences in mid September. Barcelona, Atletico Madrid, Real Madrid and Valencia all go straight into the Champions League group stage having finished in the top four last term. Getafe and Sevilla will be in the Europa League groups. They will be joined by Espanyol if the Catalan club can overcome three qualifying rounds. They will start their campaign against either Stjarnan of Iceland or FCI Levadia of Estonia on 25th July.
28th/29th September 2019 – La Liga Match-Day 7 – Atletico Madrid vs Real Madrid
The first heavyweight clash of the season is the Madrid derby on the final weekend of September. Real Madrid won at the Wanda Metropolitano last term in a match featuring a whole host of VAR controversy and in recent years have done better away to their city rivals than they have done at home.
26th/27th October 2020 – La Liga Match-Day 10 – Barcelona vs Real Madrid
Next season's La Liga Clasico dates have been confirmed. pic.twitter.com/YBAt4zUBAf

— B/R Football (@brfootball) July 4, 2019

Real Madrid have been slow starters in the past two seasons and we should have a good idea of whether they are capable of making a genuine title push this time around by the end of October. Zinedine Zidane's men will have negotiated their toughest two away games of the campaign already by that point with the first Clasico of the season set for Camp Nou on either Saturday 26th or Sunday 27th October.
30th November/1st December – La Liga Match-Day 15 – Atletico Madrid vs Barcelona
We should also have a clearer idea of how the new Atleti are shaping up by the time they host Barca on match-day 15. The weekend also sees a derby clash between Valencia and Villarreal while Real Madrid travel to Alaves where they were beaten last season during a desperate goalless streak under Julen Lopetegui.
17th-19th December 2019 – Copa del Rey 1st Round
The Copa del Rey 1st Round gets underway in mid December and unlike in previous seasons, every side in La Liga will enter at this stage except for those competing in January's Supercopa. It will be a one-off match with top flight sides set to face some real minnows from the Copa Federación, Tercera División and Regional Leagues. Lots will be drawn to determine the home team at this stage with a huge 56 matches to take place.
21st/22nd December 2019 – La Liga Match-Day 18
The final Spanish football action of 2019 sees Real Madrid host Athletic while Atletico Madrid will be aiming to make amends for last season's defeat at Real Betis. All teams will get a two week break over the Christmas period before La Liga officially hits the halfway point in early January with match-day 19 which includes the Barcelona derby at the RCDE Stadium.
8th-12th January 2020 – Supercopa de España & Copa del Rey 2nd Round
The second weekend in January will not feature any league action. Barcelona, Real Madrid, Atletico Madrid and Valencia will be competing for the Supercopa which will feature Semi-Finals for the first time and is expected to take place outside of Spain. Meanwhile the Copa del Rey 2nd Round will also take place this weekend with the 56 1st Round winners in action.
21st-23rd January 2020 – Copa del Rey 3rd Round (Last 32)
Barcelona, Valencia and the Madrid clubs will enter the Copa del Rey at this stage which is effectively the last 32. Unlike in previous years though, it will feature a one-off tie and there will be no seeding meaning the big boys could be paired against each other. The one-off ties will be played at the home ground of the team from the lower division with the same format for the 4th Round and Quarter-Finals which immediately follow over the next fortnight.
1st/2nd February 2020 – La Liga Match-Day 22 – Real Madrid vs Atletico Madrid
2019/20 Madrid Derby fixtures:

Sunday 29th September 2019:
Atletico Madrid vs. Real Madrid

Saturday 2nd February 2020:
Real Madrid vs. Atletico Madrid pic.twitter.com/iIRtumk3ia

— Everything Barça (@E_Barca1) July 4, 2019
The Santiago Bernabeu will host the second Madrid derby of the season in early February. Atleti are unbeaten in six league visits to the home of their city rivals and will be hoping to extend what is their best ever unbeaten streak on the ground.
11th-13th February 2020 – Copa del Rey Semi-Final 1st Legs
The Copa del Rey returns to a more familiar format at the Semi-Final stage with home and away legs to determine the 2020 finalists. If there are any lower-league teams remaining, and the revamped format certainly significantly increases that possibility, they will be at home in the 1st Leg.
18th-20th February 2020 – Champions League & Europa League Knock-Out Stages Commence
The business end of the season really kicks into gear with the start of the knock-out rounds in Europe in mid February. Real Madrid of course crashed out at this stage of last season's Champions League against Ajax with a desperate week ending their hopes of clinching any silverware and costing Santi Solari his job. Atletico Madrid will also be hoping to make it past the Champions League last 16 for the first time in three years. Meanwhile Sevilla are likely to head the Spanish challenge in the Europa League as La Liga looks to bounce back from the English domination of European competitions in 2018/19.
29th February/1st March 2020 – La Liga Match-Day 26 – Real Madrid vs Barcelona
Much-like last season, Real Madrid host Barcelona in La Liga around the time of the last sixteen ties in Europe and the Copa del Rey Semi-Finals. The second clasico of the season won't be a title decider given both sides will have twelve more matches following it but if Los Blancos are in touch, it could be the biggest league clasico for several years. With 2020 being a leap year, we may even have a 29th February clasico!
3rd-5th March 2020 – Copa del Rey Semi-Final 2nd Legs
The Copa del Rey Semi-Final 2nd Legs take place the week following the Clasico ensuring this will be a pivotal point in the season. Valencia will be out to defend their crown having upset Barcelona in the 2019 Final after a series of remarkable comebacks took them to Seville.
18th April 2020 – Copa del Rey Final
Valencia stun deflated Barcelona to win Copa Del Rey#Barcelona#Valencia#CopaDelRey

READ: https://t.co/chJvwcnA7T pic.twitter.com/2Wxmgkzvxu

— NDTV Sports (@Sports_NDTV) May 26, 2019
With Euro 2020 taking place in the summer, the Copa del Rey Final will take place before the end of the 2019/20 league season. Despite the radical transformation for this year's competition, it seems likely we will still have the usual saga where the venue for the Final won't be announced too far in advance. There will be no league action this weekend so no matches will need to be arranged but there is a full midweek schedule immediately following it.
25th/26th April 2020 – La Liga Match-Day 33 – Barcelona vs Atletico Madrid
The final 'big three' clash sees Barcelona host Atletico Madrid at Camp Nou in late April. Atleti haven't won there since 2006 and will be hoping to still be in the title race by the time this season's fixture comes around. The fixture is immediately followed by the 1st Leg's of the Champions League Semi-Finals a few days later, making this another crucial phase in the quest for silverware.
23rd/24th May 2020 – La Liga Final Weekend
The season ends on the weekend of the 23rd May with simultaneous fixtures the norm where there are still matters to be resolved. Barcelona go to Alaves on the final day while Real Madrid make the short trip to Leganes. Atletico are at home to Real Sociedad. At the other end, the clash between Osasuna and Mallorca has the potential to be a very significant game in the battle for survival but clearly there is plenty of football to be played between now and then!
27th May 2020 – Europa League Final in Gdansk, Poland
The Europa League Final takes place a few days after the final round of league fixtures. Sevilla will be hoping that the return of Monchi helps bring back some of the magic that has seen them win the competition five times, more than any other club. One of those wins came in a Final against Espanyol who will be dreaming of another long Europa League run this term while Getafe are bidding to try and better their run to the Quarter-Finals in 2008.
30th May 2020 – Champions League Final in Istanbul, Turkey
Official: Atatürk Olympic Stadium in Turkey will be hosting the 2020 Champions League Final with a 76K seater, Turkey's largest stadium! ??❤️ pic.twitter.com/Ta3EBHWPNA

— SB (@Realmadridplace) May 24, 2018
Three days later, it's the big one and the Champions League Final in Istanbul. Real Madrid have won the competition in every season where Zinedine Zidane has been their coach and it would be extraordinary if he can pull off the trick again. Barcelona meanwhile are desperate to avoid the pitfalls of the past few years where they've let big leads slip to exit in the knockout rounds. Following busy summers, La Liga's 'big two' will be determined to take the fight to the likes of Liverpool, Man City, Juventus, PSG and Bayern and seal their place in the Istanbul finale.
---
Other La Liga Derby Dates
---
In addition, there are a whole host of local dust-ups to look forward to. These are the dates for the big derby clashes in Valencia, Seville, Barcelona, South Madrid and the Basque Country.
30th August 2019 – Athletic vs Real Sociedad
19th/20th October – Getafe vs Leganes
9th/10th November – Real Betis vs Sevilla
7th/8th December – Levante vs Valencia
4th/5th January – Espanyol vs Barcelona
18th/19th January – Leganes vs Getafe
8th/9th February – Real Sociedad vs Athletic
14th/15th March 2020 – Sevilla vs Real Betis & Valencia vs Levante
9th/10th May 2020 – Barcelona vs Espanyol
You can keep tabs on all our La Liga match previews here once the season gets underway.
---
Follow La Liga Expert on Twitter | Like us on Facebook
---
Article via Mark Sochon – Contact: marksochon(at)hotmail.co.uk | @marksoc1 on Twitter