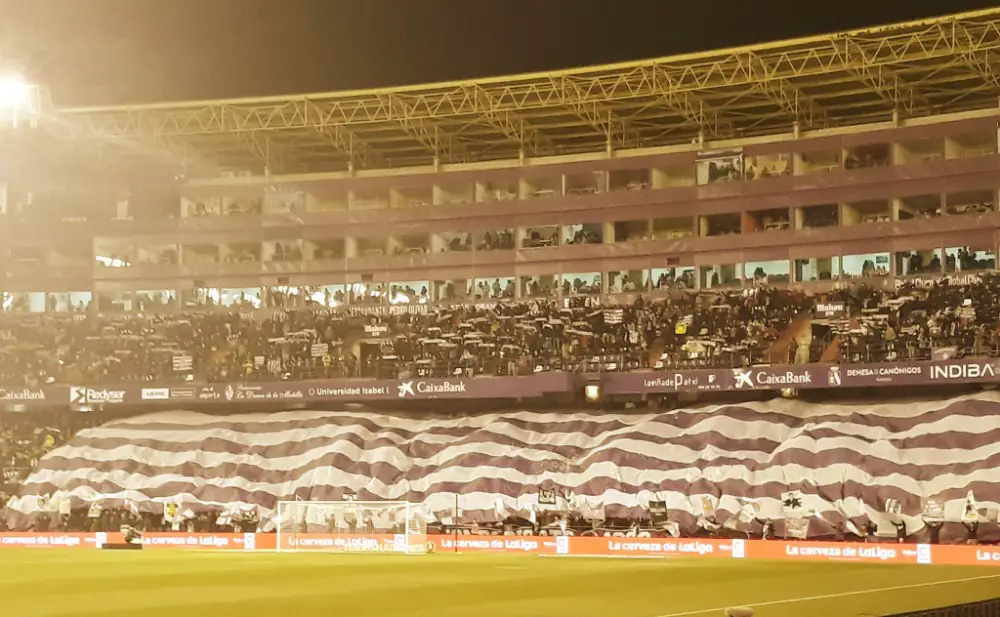 Statistically speaking, this hasn't been a great season for entertainment in La Liga. In fact it has been the lowest scoring campaign in twelve years with a significant drop-off in terms of goals scored even compared to last term. With ten rounds of fixtures to go, the 2018/19 is on course to record the lowest goals-per-game average of the decade and it may be a source of some concern to the powers that be at La Liga HQ at a time when they are actively upping their bid to broaden the global appeal of Spanish football.
2018/19 compared to recent Seasons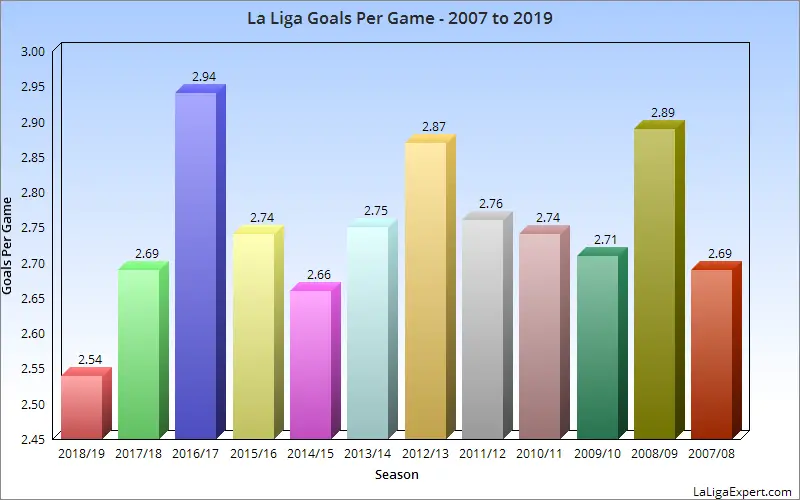 With 280 matches played, there have been 711 goals scored so far this season in La Liga at an average of 2.54 per game. That is a pretty serious decline on recent seasons with the 2016/17 season producing nearly half a goal more on average per game across the entire campaign. That is a really significant change and we are even some way off the next lowest scoring season of the decade (2014/15 when 2.66 goals per game).
The last time La Liga produced so few Goals – 2006/07
Not since 2006/07 has La Liga been so low-scoring. That season saw just 942 goals scored at an average of 2.48 per game. It was a campaign that ended with a relatively underwhelming Real Madrid side as champions of Spain for the 30th time and Ruud van Nistelrooy as top scorer with 25 goals. Zaragoza's Diego Milito was second to him in the goalscoring charts while Frederic Kanoute and Ronaldinho were the only other men to pass the 20 goal mark.
It was also the first season in which Leo Messi hit double figures in La Liga. However this was pre-Pep era at Barcelona and it wasn't a great year overall for the 'big two' with Sevilla arguably the most impressive Spanish side that season. They may well have won La Liga were it not for their extensive cup commitments but the years that followed would see both Real Madrid and Barcelona really start to reach new heights in terms of goalscoring with the emergence of the two superstars of the modern game.
Why has the 2018/19 Season been short on Goals?
There is a tendency to link everything from Real Madrid's demise this season to falling attendance figures to the departure of Cristiano Ronaldo last summer. His exit has clearly had an impact on Real Madrid's decreased goal threat this term but there are factors at several clubs which explain why this has been a low-scoring campaign across the board.
Barcelona are the highest scorers by a huge 24 goal margin and their average of 2.61 goals per game is actually identical to last season when they finished the campaign with 99 in total. Elsewhere though, it only takes one glance at the rest of the top half to realise this hasn't been a thrilling season in terms of goalmouth action and while there is not really one common factor, there are numerous reasons why this season hasn't delivered as many goals.
The Madrid clubs remain Barcelona's closest challengers but both sides have found goals hard to come by this term. Real's struggles are well documented but Atletico also average a really poor 1.39 goals per game with few of their attacking recruits over the past twelve months hitting it off. They've scored just three more goals than 18th placed Celta Vigo.
Next come surprise packges Getafe and Alaves, two sides who have largely forged their success on the back of solid defensive foundations. 6th placed Sevilla have scored more goals this term but below them lie Valencia, who have been creating a reasonable number of chances but invariably failing to finish them. Real Betis in 8th and Athletic Club in 9th have made shifts towards a more conservative style this term with a greater emphasis on keeping it tight at the back than was the case last season. Even 10th placed Real Sociedad started the season with the main emphasis being on trying to get better defensively with Asier Garitano appointed in the summer.
How does La Liga compare to the other 'big' European Leagues?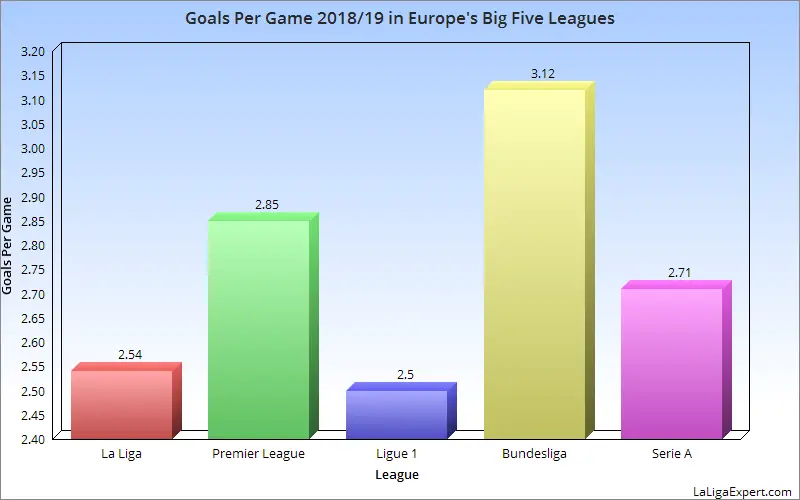 Out of Europe's 'big five' leagues, only Ligue 1 has produced fewer goals per game on average this season than La Liga. The Bundesliga has been the most entertaining in terms of goalmouth action with 3.12 goals per game, more than we saw in Spain during any of the peak years when Real Madrid and Barcelona were regularly both hitting 100 per season.
It should though be said that there is by no means a total correlation between goals and entertainment. In many respects La Liga has been the most unpredictable of Europe's big five leagues this season with Europa League Quarter-Finalists Villarreal battling relegation while unfancied Alaves and Getafe chase Champions League football. Real Madrid meanwhile have suffered eight defeats, more than any of the Premier League's top six besides Tottenham and this has been an intriguing season in many respects despite the decrease in goals scored.
Keep tabs on our La Liga Blog for the latest features on life in Spain's top flight.