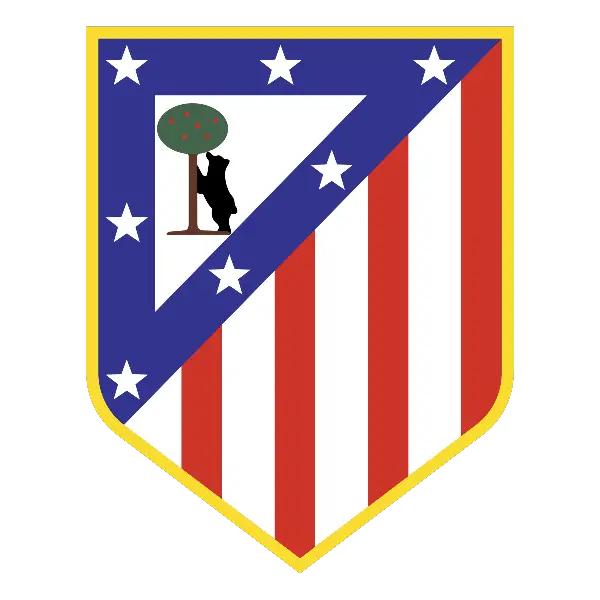 The question on every Atleti fans lips, even before their 4-2 Super Cup win in Tallinn, was whether or not Diego Simeone's men are capable of competing for the league title this season. It's a matter that has stirred debate with the bookies appearing to write them off with odds as long as 10/1 for Atleti to win La Liga 2018/19. However the conventional wisdom is that they should be stronger this term and Wednesday's victory was a timely reminder to anyone who'd forgetten that they are more than capable of competing with their city neighbours and whisper it quietly, they actually finished above them last term.
That's a fact which everyone seems to have forgotten. It's understandable to some extent given Barca won the title with such ease and both Madrid clubs had major distractions which rendered the battle for 2nd place a relatively insignificant one. However it was still a notable achievement for Atleti, particularly in a season which they started under transfer embargo and having to adjust to the challenge of playing in a new stadium.
The Case for Atleti to Win La Liga 2018-19
There is a strong case to be made for why Atletico Madrid can at the very least be serious title challengers this season. It is widely accepted that they've had a great summer and keeping star man Antoine Griezmann when it looked for all the world as though he was heading to Barcelona, was clearly key. It sent the right message out to the likes of Jan Oblak and Diego Godin who also turned down interest and most likely larger pay packets from the Premier League to stay put. There was a real danger that Atleti's core team of the past few seasons could have been broken up this summer, particularly with a stadium to pay for, but that hasn't happened and their best business has been holding onto those key men.
They've also made a statement signing in Thomas Lemar, coming for more money than either Barcelona or Real Madrid have forked out on a single player over the past few months. Along with fellow new boy Rodri, he will bring energy to the side and they look to have pretty successfully found replacements for the likes of Gabi and Yannick Carrasco who have left in 2018.
Throw into the mix Diego Costa and Vitolo, who only became available in January and will have benefited from a full pre-season at the club this time around, and Atleti appear much stronger in terms of both their squad and starting eleven heading into this season. They had the best defensive record in La Liga yet again last term and they will again be very tough to break down over the coming nine months while it will be exciting to see how the Griezmann-Costa partnership develops and their strike-force, for perhaps the first time in many years looks exceptionally strong.
Catching Barcelona
It's not difficult to make a case for Atletico Madrid having a good season but there is still the huge question of how exactly they catch a side that only lost once in La Liga last term and finished 14 points above them. Given at least 90 points has been needed to win La Liga in each of the last nine seasons, Atletico Madrid at the very minimum need to find an extra 11 points this season from the 79 they accumulated last term to stand a realistic chance. They've never got more than the 90 they won the title with five seasons ago so it's still a big ask and there are certain key areas where they appear to still lag behind the Catalan giants.
The first one has no real solution and lies in the brilliance of Leo Messi. Diego Simeone essentially admitted on several occasions last term that Messi propels Barcelona onto a level his team can't reach without a player of such genius. While in a one-off game, they can compete, over the course of the season Messi delivers with ridiculous consistency and rescued his team on numerous occasions last term in matches they may have dropped points in. Antoine Griezmann is the closest thing Atleti have to Messi and they need him to really step up this season and start delivering figures close to those Messi and Ronaldo have produced on a consistent basis over the past decade.
That will help Atleti address a lack of goals which has also been a problem for them. They only had the seventh best goalscoring record in La Liga last term. Their tally of 58 goals was 31 fewer than what Barcelona managed and incredibly 8 less than Real Sociedad, who finished 12th. It's unrealistic to expect a team to challenge for the title with that kind of number and they need Griezmann, Costa and a few other players to step up this season and hit the net much more regularly.
Is Simeone Building for the future or plotting a title charge this season?
? World Cup winners and UEFA Super Cup Winners!
?? Oh la la! ?#AúpaAtleti #SuperCup #RealMadridAtleti pic.twitter.com/ifj2evKNNk

— Atlético de Madrid (@atletienglish) August 15, 2018
Perhaps the most interesting question in all of this is whether Diego Simeone is truly thinking about winning the title this season or will be targeting the cups, most notably the Champions League which concludes at the Wanda Metropolitano next June. That is still the one trophy that eludes Simeone and Atleti and they won't get a better chance than this season with the Final at their own stadium.
There is also a secondary battle going on in La Liga right now besides the obvious title race. All of the 'big three' have been reaching a point where the age profile of their squads was creeping up and the race is firmly on to assemble the best squads capable of competing for honours in the dawning age when Spain's golden generation will all be either past their peak or retired and in an era post-Ronaldo and eventually post-Messi.
Ateti appear to have stolen a bit of a march on their rivals, certainly when you look at their midfield. Their first choice midfield quartet this term looks set to consist of 22 year olds Thomas Lemar and Rodri as well as 23 year old Saul and Koke, a relative veteran at 26. That may not rival the midfields of Barcelona and Real Madrid right now but with the likes of Luka Modric, Sergio Busquets and Ivan Rakitic having turned 30 and a relative lack of other emerging Spanish central midfielders of the very highest quality, Atleti appear to be positioning themselves for future seasons when their two main rivals will ultimately be weakened by ageing squads and departing or retiring players.
Throw into the mix Griezmann, Oblak and Gimenez, three players who are perhaps yet to hit their peaks and they appear to have a squad that will be serious title contenders over the next five years or so. However Simeone will know, their task may get easier in future seasons as his regenerated team develops and particularly as Messi, now the undisputed star of the league, eventually sees his powers wane. Therefore it may be a case that the title just eludes Atletico Madrid this season with Messi and Barcelona still an immense force but there is every reason to believe Atletico Madrid have another title or two in them in this remarkable era under Diego Simeone's leadership.
Check our Spanish Football Previews and keep tabs on all the action this term in La Liga!