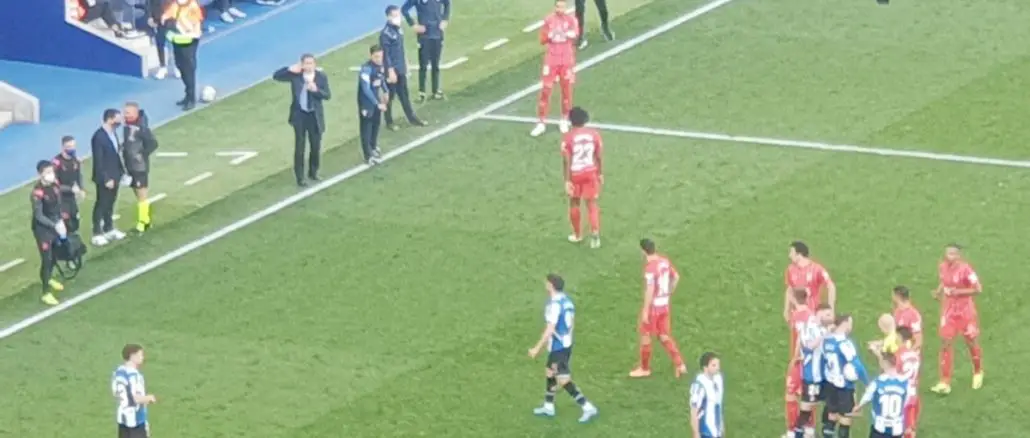 Domestic action takes a breather for the final international break of the season but it returns with a hectic period which will see the final nine matchdays played out in the space of 51 days as all the key issues are decided at both ends of the table.
We have got a much clearer idea of the direction some of those battles are heading in recent weeks with the likes of Barcelona and Atletico Madrid returning to form to reassert their top four status while Sevilla's tendency to draw matches has left Real Madrid in firm control of the title race. It's tighter at the bottom though where up to eight teams are involved in the relegation scrap.
Here's a look at what's at stake when LaLiga returns following the internationals:
Any hint of a Title Race?
| | | | |
| --- | --- | --- | --- |
| Position | Team | Played | Points |
| 1st | Real Madrid | 29 | 66 |
| 2nd | Sevilla | 29 | 57 |
| 3rd | Barcelona | 28 | 54 |
| 4th | Atletico Madrid | 29 | 54 |
Barcelona's stunning 4-0 win in El Clásico at the Santiago Bernabeu last time out was significant in that it appeared to signal, as Gerard Pique tweeted following the game, that Barça are back as a genuine force again. 
However, that result taken in isolation, does little to change the likely destiny of this season's title. Even if they win their game in hand, Barcelona would have 9 points to make up on Real Madrid over 9 games and that would take some collapse from Los Blancos combined with continued excellent form from the Catalans.
What the Clásico result does appear to have confirmed though is that Barcelona are now the most likely side to pounce should the wheels spectacularly fall off in the white half of Madrid. Sevilla have drawn 7 of their last 9 league fixtures to see their chances fade and they will effectively be out of the race should they lose at Camp Nou in their next game.
Real Madrid do have some awkward away games to come including trips to both Sevilla and Atletico but they have built up such a significant lead that any talk of a serious title race between Spanish football's "big two" may have to wait until next season.
The European Battle
| | | | |
| --- | --- | --- | --- |
| Position | Team | Played | Points |
| 2nd UCL | Sevilla | 29 | 57 |
| 3rd UCL | Barcelona | 28 | 54 |
| 4th UCL | Atletico Madrid | 29 | 54 |
| 5th UEL | Real Betis | 29 | 50 |
| 6th UEL/UECL* | Real Sociedad | 29 | 48 |
| 7th Maybe UECL* | Villarreal | 29 | 45 |
| 8th | Athletic Club | 29 | 41 |
| 9th | Valencia | 29 | 40 |
| 10th  | Osasuna | 29 | 38 |
| 11th | Celta Vigo | 29 | 36 |
| 12th | Espanyol | 29 | 36 |
The race for Champions League football suddenly looks a lot clearer. While Real Betis and Real Sociedad have spent much of the campaign in the top four, Barcelona and Atletico Madrid have both reeled off five straight league wins to give the UCL positions a familiar look once more. Right now it looks highly likely that Real Madrid, Barcelona, Sevilla and Atletico will be the top four for the third season in a row. The gap to 5th is four points meaning Betis and La Real both need a stunning end to the season to stand a realistic chance of playing in next season's Champions League now.
More realistically, they will now both be focused on trying to clinch Europa League football again. Betis don't need to wait until the end of the season to do that. They face Valencia in Seville in the Copa del Rey Final on 23rd April and victory would not only clinch their first major trophy in 17 years, but would ensure Manuel Pellegrini's side a place in next season's Europa League.
That would also be good news for everyone else in the European race with the obvious exception of Valencia who are currently 10 points back on Betis and are more heavily reliant on winning the cup for their chances of being in Europe next term. Were Valencia to win in Seville, then that would almost certainly mean only two of Betis, Real Sociedad and Villarreal could possibly qualify for Europe.
Missing out would be a bitter blow for any of those clubs, particularly Villarreal who have shone in Europe over the past eighteen months and have a Champions League quarter-final against Bayern Munich to look forward to. An absence of European football in 2022/23 would inevitably have a financial impact and may lead to sales this summer so the Yellow Submarine cannot afford to take their eyes off the ball in LaLiga, as appeared to be the case on matchday 29 when they were really poor in defeat at lowly Cadiz.
Athletic Club are also on the fringes of the battle and would dearly love to bring European football back to Bilbao but they will need a really strong end to the season to stand any chance. The likes of Osasuna, Celta Vigo and Espanyol are also not mathematically out of it either but all three currently look on course for safe mid-table finishes but no more.
*The Copa del Rey winners (Betis face Valencia in the Final) will qualify for the Europa League, unless they finish in the top four which will see them go into the Champions League. If the cup winners finish anywhere in the top six in LaLiga, the 5th and 6th place teams will go into the Europa League while 7th will be good enough for Conference League football. If the cup winners finish outside the top six, the team in 6th will go into the Conference League while 7th will not offer European football.
There are a few more unlikely permutations that could complicate things further such as a Spanish club winning the Champions League and finishing outside the top four or Barcelona winning the Europa League and finishing outside the top four. In any of these events, the team in question would qualify for next season's Champions League and Spain would again have five participants in next season's UCL.
The Relegation Scrap
| | | | |
| --- | --- | --- | --- |
| Position | Team | Played | Points |
| 13th | Rayo Vallecano | 28 | 32 |
| 14th | Elche | 29 | 32 |
| 15th | Getafe | 29 | 29 |
| 16th | Granada | 29 | 28 |
| 17th | Cadiz | 29 | 27 |
| 18th | Mallorca | 29 | 26 |
| 19th | Alaves | 29 | 22 |
| 20th | Levante | 29 | 19 |
We've had plenty of final day drama at the bottom in recent years in LaLiga and a repeat looks very possible again this season with only 6 points currently separating the six teams between 13th and 18th.
Bottom club Levante would be delighted just to go into the final matchday with a mathematical chance. That currently seems unlikely with 8 points separating them and safety. They have at least recorded their first three wins of the season since the turn of the year with things improving under Alessio Lisci in 2022 but they headed into the international break with just 1 point from 3 games with the brakes seemingly pulled on their mini-revival.
Aside from the Valencia club, all of the other teams will feel as though they have at the very least a fighting chance. Alaves' position is perilous on paper but they are battle-hardened having successfully won relegation battles in recent seasons and they have a kinder schedule than many of their rivals on paper. They will though need to massively improve on a run of just 1 win in 17 league games culminating in a damaging 3-2 home defeat against fellow strugglers Granada last time out.
Granada had taken just 1 point from 8 games heading into the trip to Vitoria but pulled a massive result out of the bag under the guidance of interim boss Rubén Torrecilla to boost their survival prospects. Mallorca have also opted for a coaching change with Luis Garcia sacked following a sixth straight loss last time out to see them slip into the bottom three. Javier Aguirre is the new man with the Mexican's most recent stint in LaLiga seeming him come tantalisingly close to pulling off one of the all-time great escapes with Leganes.
The other team in immediate peril is Cadiz who have a tough schedule to come but they are fighting hard and in the best form of anyone in the bottom five. They've become much tougher to play against since appointing Sergio in January and have even finally won a couple of home games with Rayo and Villarreal both seen off at the Estadio Nuevo Mirandilla in recent weeks.
It does feel as though it will most likely be three from the current bottom five that go. However Getafe, Elche and Rayo Vallecano still certainly have work to do. All three can point to strong home records and will back themselves to pick up at least a couple of wins between now and the end of the campaign which could be enough to see them over the line. 
Rayo, who were dreaming of European football only a few months back, are perhaps the team you fear the most for out of that trio given they are yet to record a league victory in 2022 but the international break may be just what Andoni Iraola's side needed to regroup and go again in the home stretch.
As ever, those all-important six-pointers, of which there are many still to come, will be decisive. There are even three bottom eight clashes on the very final weekend with Elche-Getafe, Alaves-Cadiz and Rayo-Levante all potentially massive final day showdowns that could determine the top flight futures of the clubs involved.