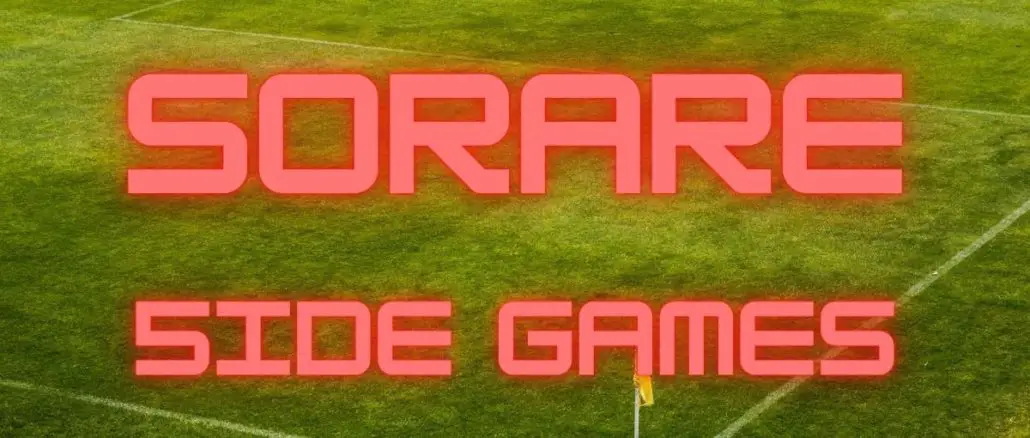 Unless you're purely a trader or collector, chances are your Sorare journey will largely be built around the SO5 tournaments. You'll want to buy the cards that give you the best chance of competing for SO5 prizes on your budget. However there is a growing number of ways in which you can use your cards outside of the platform altogether. Today, we're going to look at some free Sorare side games where you can get extra utility out of your cards and potentially win more prizes.
---
Card Utility – Where else can you use your Sorare NFTs?
---
Our final announcement of the night.

INTRODUCING OUR LEAGUES!

Where legends of Sorare are made. Climb your way to the World Class league. Play against the best. Win rewards.

78 cards up for grabs thanks to @SorareHQ.

Where will you play? You'll know soon.#SDLeagues pic.twitter.com/PaQcQdG55L

— SorareData (@SorareData) February 12, 2021
First and foremost, SorareData is a fabulous free resource which you can use to scout players, make recruitment decisions and track the value of your collection (or that of any other manager). It also has a "Play" section where you can enter leagues and cups using your Sorare cards and compete for prizes.
The leagues section enables you to compete virtually every weekend throughout the year and pick teams of 11 players with subs from your collection. This creates a different dynamic to the regular SO5 games and does largely reward those with large card collections although you'll be placed in leagues with managers on a similar level to you. The cups are straight knockout affairs and range from league or region specific such as the J League Cup or Champion Europe Cup to special tournaments such as the recent Rotowire Cup and Play It like Zuraw.
In all cases, you can simply log in using your Sorare account and select your teams just before the deadlines in a similar way to on the platform proper. There's absolutely nothing to lose by taking part and unlike on Sorare, you can pick the same card in more than one league/cup each gameday on Soraredata.
?Mega 3 & Mega 5 leagues are now opened!

Whether you have a small gallery or you feel more confident with micro teams you have now 3 different leagues that you can all enter ?

Rewards for best scores ? (huge ty ? @SorareHQ)

➡️ https://t.co/uF4tl6qNd7#Sorare #SorareMega pic.twitter.com/qnRHIOpPNT

— SorareMega (@SorareMega) March 28, 2021
This is a much smaller and simpler site but gives you another easy way to utilise your Sorare NFT's. You can use rare, super rare or unique cards from your collection to enter 1vs1 duels and gradually increase your ratings. Currently there are Mega 3, Mega 5 and Mega 8 contests where you pick 3, 5 or 8 cards to compete each gameweek.
Like SorareData, there are prizes to be won, and the ability to field a team of just 3 cards may suit those with smaller collections. However on SorareMega, you cannot enter the same card in two separate contests, so you'll need to think tactically about which ones to field where on any given gameweek.
Ubisoft is a well known French video game company that has been one of Sorare's primary backers during their early years as a startup blockchain-based enterprise. Their involvement stepped up a notch recently with the introduction of Ubisoft's One Shot League.
The One Shot League is quite different to the other side games and you can take part even if you don't yet own any Sorare NFT's of your own. It is currently just based around the Belgian Jupiler Pro League and works more like a typical free fantasy football game where you select a squad of Pro League players to compete over the course of a "season" which lasts 6 gameweeks. However there is a major catch in that each player can only be used once during the entire season so you really need to think long and hard about your 25-man squad selection and on deciding in which gameweeks you will use your cards.
If you perform well in a given gameweek or across the season, you can earn real Sorare cards which can be sold or used to enter SO5 games on the main platform. Overall, aside from the Rookie Leagues, the One Shot League is currently the best way to try out Sorare without actually spending any money. If you like the concept, chances are you'll be more likely to go on to fully sign up to Sorare and start collecting cards of your own on the Sorare marketplace.
Hi Managers!
Introducing Sorare Brag
A new way to show your @SorareHQ friends who's the best
It's time to create your league
Play ⚔️
Brag ?https://t.co/MIHZRrAR6T

— Sorare Brag ? (@SorareBrag) April 28, 2021
Finally we have Sorare Brag, the latest but almost certainly not the last side experience offering up extra utility for your collection. Their site enables you to form leagues with your friends or other managers and compete against them each gameweek.
While it's perhaps not the best option for anyone just getting started on Sorare, it's certainly a welcome addition to the list of free Sorare games, especially for those who enjoy the social element of fantasy football. Sorare Brag is a new site so it's still in the development phase to some extent but it has the potential to grow into an exciting platform for those looking to face off against their mates.
---
If you run or know of any more free Sorare games, we'd be happy to add them to this list. You can get in touch via twitter (@sorarelaliga) or via email.