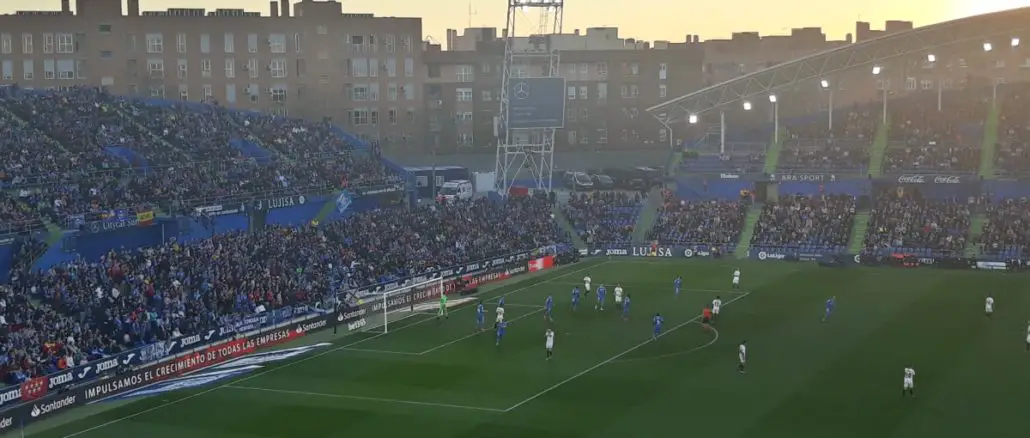 Outside of the traditional big clubs, one of the stories of LaLiga in recent times has been the resurgence of Getafe under the careful stewardship of José BordaIás. Indeed, since the Madrid-based side were promoted back to the Spanish top-flight in 2017, they have achieved three consecutive top eight finishes. 
A well-earned fifth place finish in 2018/19, which was sandwiched by two eighth place positions, meant that they also returned to the European stage. Their Europa League exploits last season saw them knock out Ajax in the round of 32 before succumbing to a 2-0 defeat against eventual finalists and current Serie A leaders Inter Milan. 
To put the last few seasons into perspective, Getafe had not made the top 10 of LaLiga since 2010/11, whilst they had not achieved back-to-back top half finishes since the club's original golden period in the mid 2000's, a spell which also saw them reach successive Copa del Rey finals in 2007 and 2008.
Thus, whilst ultimately Getafe have fallen just short of emulating the standard set during a period when they also came agonisingly close to knocking Bayern Munich out in a UEFA Cup Quarter-Final, under Bordalas' stewardship, these comparisons can be made. This period will go down as one of the great eras in Getafe history.
Yet, the fall is in danger of being just as dramatic as the original rise. Getafe, who were playing Segunda Division football just two years before that 5th place finish, have really lost their way this season and currently languish in 15th place, just 3 points above the relegation zone. Their infamously combative style has boiled over into many moments of real indiscipline, from both playing and coaching staff.
So, where has it gone wrong for Getafe?
Lockdown form
It would be inaccurate to state that Getafe's dip in form began this season.
In the 11 matches played after the Covid-enforced restart in June, the club only mustered up one victory.  Even more worryingly, after this 2-1 win against Real Sociedad, the club lost four out of their final six matches. The other two games were 0-0 draws. 
This is in direct contrast to their form at the start of last season. Before June's resumption of Spanish football, Getafe had lost only seven out of 27 LaLiga encounters, all against strong sides in the shape of Barcelona and Sevilla (twice), Real Madrid, Atletico Madrid and Villarreal, that is, teams you might expect them to lose against.  
It's clear that the break enforced by the global pandemic served to take the momentum out of Bordalas' men, who were on cloud nine when they defeated a talented Ajax side in the Europa League just before lockdown.
A good start to this season
Getafe 1-0 Barcelona
⚽️ 56' Jaime Mata (P)#barca #barcelona #FCB #LaLiga #LaLigaSantander pic.twitter.com/Ufv3rp8jS3

— Soccer Scoop (@SoccerScoop2) October 17, 2020
Nonetheless, despite finishing last season in dire form, the club began this campaign positively, winning three out of their first five matches, including an emphatic 3-0 victory over Manuel Pellegrini's Real Betis and a 1-0 win against Ronald Koeman's faltering Barcelona. They also kept clean sheets in four out of their first five matches. 
It certainly seemed that Bordalás' Getafe were back. 
The end to last season could have been put down to the uncertainties and strangeness of the game's resumption during the Coronavirus pandemic as Getafe struggled to recreate their typically intense, physical style of play.
However Getafe's bright start to 2020/21 has not lasted and some more serious and permanent cracks have started to appear. Their form has severely slumped of late, with just one point from their last six games. They've gone five matches without scoring since a heavy 5-1 loss to Marcelino's rejuvenated Athletic Club.
Getafe's lack of goalscorers & the loss of Jorge Molina
A lack of goals is clearly a major concern and while even during their peak under Bordalas, Getafe were never a free-scoring side, the current statistics are extremely damning. 
Despite being more frequently used off the bench, their top goalscorer is Ángel with five in all competitions. Fellow forwards Jaime Mata and Cucho Hernandez have chipped in with just two each and nobody else has scored more than once this season.
OFFICIAL: Real Madrid's Takefusa Kubo joins Getafe until the end of the season after his Villarreal loan was cut short ? pic.twitter.com/ZTtlnIZ01b

— Goal (@goal) January 8, 2021
Their recent loan signings of Takefusa Kubo and Carles Aleñá from Real Madrid and Barcelona respectively were hoping to address this.  However Bordalas has struggled to integrate them without losing some of those defensive foundations that have been so key to Getafe's success over recent years.
One of the biggest losses in the attacking department was experienced forward Jorge Molina, who moved in the summer on a free transfer to Granada. Molina was a talisman and brought a lot of experience to the side. While not always a prolific scorer of goals (he only scored 5 last season), his role as the primary target-man was integral to the way Getafe played and helped get the best out of other players with both Ángel and Mata reaching double figures last term.
A squad capable of better & some key games coming up
Whilst Jason returned to Valencia and Kenedy to Chelsea (he has since been loaned out to Granada) last summer, the reality is that Getafe do possess a more talented squad than they often get credit for and they should be higher up in this league. 
With players of the quality of Ángel, Mata, Cucho, Marc Cucurella and Djene Dakonam as well as January arrivals Carles Aleñá and Tafekuso Kubo, they have enough to turn their dip in form around. While Bordalas has worked wonders with a more limited squad in previous years, the tables really have turned around this season and the pressure is on him to find more solutions and a viable way of getting the best out of his players.
Although they are currently in 15th place, the competitiveness of LaLiga means that they are only six points away from Granada in ninth.  Their next six fixtures see them face five fellow bottom half teams in the form of Valencia, Real Valladolid, Elche, Osasuna and Cadíz. 
A few good results could see them shoot up the table again very quickly but on current form, they are in danger of becoming embroiled in a relegation battle.
While recent final days have seen them involved in tense battles for European qualification, it could be a very different story this season if they are not careful. In what could be a very cruel twist of fate, they face club legend Jorge Molina's Granada in their final game. Getafe will be desperate to ensure they have guaranteed their survival by that point.