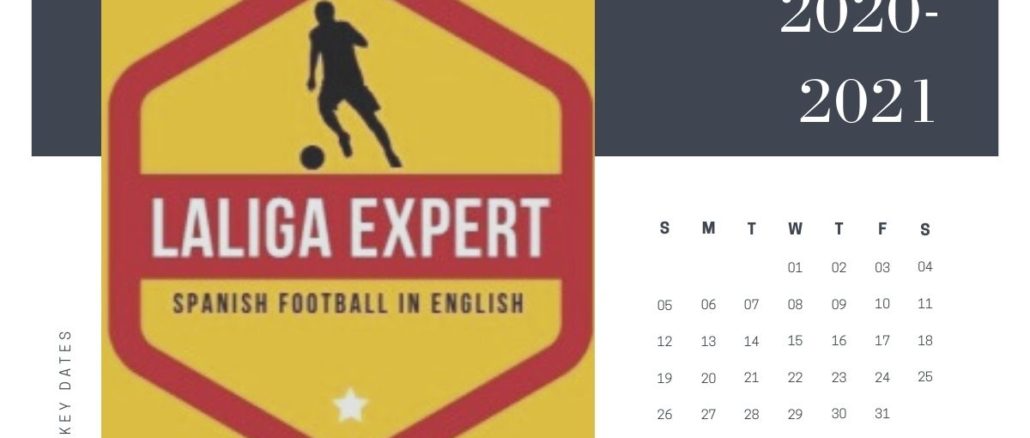 After an extraordinary campaign which lasted more than 12 months for some clubs, the 2020/21 Spanish football season will start late and is set to be a congested affair. Everybody is hoping and praying that we will avoid any more serious delays due to the ongoing pandemic. If we manage to do that, we should get all the normal competitions played and settled between September 2020 and May 2021. LaLiga announced their schedule for the 2020/21 season on 31st August and these are some of the key dates to look out for.
---
2020 – 2021 Spanish Football Dates
---
12th-13th September – LaLiga Opening Weekend (for most teams)
We have LaLiga fixtures!

Opening Weekend (12th/13th September):

Alaves vs Real Betis
Eibar vs Celta
Cadiz vs Osasuna
Granada vs Athletic
Valencia vs Levante
Real Valladolid vs Real Sociedad
Villarreal vs Huesca

— LaLiga Expert (@LigaExpert) August 31, 2020
LaLiga 2020/21 will officially start on Saturday 12th September with Eibar's game against Celta Vigo.
However not all of the 20 teams will start at this point. Atletico Madrid, Sevilla, Real Madrid, Getafe and Barcelona all played European ties in August and will get an extra week or two to prepare. The same goes for Elche who clinched promotion via the play-offs which finished several weeks after the 2019/20 Segunda Division due to the Fuenla-gate saga. The standout opening weekend fixture is the Valencia derby at Mestalla. Elsewhere, newly promoted Cadiz host Osasuna while Huesca return to LaLiga with an away game at Villarreal.
LaLiga SmartBank also kicks off on the same weekend, although teams involved in last season's play-offs won't feature until the third weekend of the season.
18th-21st September 2020 – LaLiga Matchday 2 (Real Madrid & Getafe Start)
There will also be seven matches on the second weekend of the season. Real Madrid and Getafe, who experienced the earliest exits of the teams involved in European football in August, play their first games. Los Blancos have a tough first match away to Real Sociedad, a game which will see Martin Ødegaard make an immediate return to Anoeta. Getafe meanwhile kick off their season at home to Osasuna.
24th September 2020 – UEFA Super Cup (Sevilla vs Bayern)
Europa League champions Sevilla take on Champions League winners Bayern Munich in Budapest for the 2020 UEFA Super Cup. This match is expected to be a pilot event taking place in front of a crowd that is 30% of the total capacity of the Puskás Aréna. It will be the first official UEFA match with a crowd since their competitions resumed in August.
25rd-28th September 2020 – LaLiga Matchday 3 (Barça, Atleti, Sevilla & Elche Start)
The third weekend will see the first full matchday with all 20 teams in action. Barcelona get their campaign underway with a testing home game against Villarreal. Atletico Madrid host Granada in their first match while newly promoted Elche will entertain Real Sociedad in their first game back at this level. Sevilla will start their league campaign with an Andalusian derby at Cadiz.
5th October 2020 – Summer Transfer Window closes in Spain
The Transfer Window has been extended to give teams more flexibility to make deals during these uncertain times. It won't close until Monday 5th October, by which point some teams will already have played 5 league games.
20th-22nd October 2020 – Champions League & Europa League Group Stages Commence
The major European competitions also start late this season with the group stages of the Champions League and Europa League getting underway in the week commencing Monday 19th October. Matchdays 1, 2 and 3 will take place in successive weeks meaning this will be a busy period in the season for the teams involved.
Spain's Champions League representatives will be Barcelona, Real Madrid, Atletico Madrid and Sevilla. All four go straight into the group stage. Villarreal and Real Sociedad will be in the Europa League group stage. They'll be joined by Granada if the Andalusian side can win three single-legged qualifiers. Granada kick off their first ever European campaign against Albanian side Teuta on 17th September.
24th/25th October 2020 – Clásico at Camp Nou
Barcelona will host Real Madrid in the first the first Clasico of 2020-21 on October 25 after LaLiga announced its fixture schedule for the forthcoming season. https://t.co/rN8dXxFi3B

— SBS – The World Game (@TheWorldGame) August 31, 2020
We won't have to wait too long to get the first Clásico of the season. LaLiga have resisted the temptation to delay the fixture until the new year when the chances of fans being able to attend will be higher. Given the problems with last season's game at Camp Nou, it's perhaps no surprise that it's the fixture in Barcelona rather than Madrid that has been scheduled first and looks more likely to take place in an empty stadium.
December 2020 – Copa del Rey 1st Round
LaLiga clubs not involved in the Supercopa will enter the Copa del Rey at the 1st Round stage with fixtures expected to take place around 16th December. The competition is set to follow the same format as last season with single-legged ties until the Semi-Final stage and higher tier sides automatically drawn away to lower tier ones.
Teams involved in the Supercopa will enter at the 3rd Round stage in January.
4th January 2021 – Transfer Window opens
Spanish teams will be able to buy players again once the transfer window re-opens on Monday January 4th . Most teams will have played 17 games by that point and 21 by the time the window shuts on February 1st.
January 2021 – Supercopa takes place in Saudi Arabia
The Supercopa will be back in Saudi Arabia in early 2021. It will follow the same format with Real Madrid, Barcelona, Atletico Madrid and Real Sociedad the participants this time. Assuming the 2020 Copa del Rey Final has been played, the winners will face Barça in one Semi-Final while the runners-up will face Real Madrid in the other Semi.
Exact dates have not been announced yet but it's expected to take place between 13th and 17th January 2021 with the matchday 19 LaLiga fixtures of the teams involved moved to 15th/16th December 2020.
16th-18th February 2021 – Champions League & Europa League Knockout Stages Start
The business end of the European competitions is due to commence in the third week of February. Unlike the conclusion to this year's UCL and UEL, knockout ties will all be two-legged except for the Finals.
10th/11th April 2021 – Clásico at the Santiago Bernabéu
The second Clásico of LaLiga 2020/21 is set to take place in Madrid on matchday 30. With just seven games to play after it, the fixture could be a very decisive match in the title race as Real Madrid aim to defend their crown.
April 2021 – Copa del Rey Final
While we may not have a date for the 2020 Copa del Rey Final, we are expecting the 2021 edition to take place at Seville's Estadio La Cartuja in April. It looks likely to be on Saturday 17th April although that is not official yet.
23rd May 2021 – LaLiga Concludes
If all goes to plan and we don't experience any of the disruption which led to the delay of the previous campaign, LaLiga 2020/21 will finish on Sunday 23rd May 2021. Barcelona travel to Eibar while Real Madrid host Villarreal on the final weekend in a repeat of the fixture which saw them clinch the 2019/20 title. Invariably the final matchday in LaLiga produces some drama, whether it's at the top or bottom.
26th May 2021 – Europa League Final in Gdansk, Poland
The Europa League Final takes place a few days after the final round of league fixtures. It will take place in Gdansk which was originally scheduled to host the 2020 Final. Real Sociedad and Villarreal will lead the Spanish challenge unless any of the Champions League participants end up having to settle for 3rd place in their groups.
29th May 2021 – Champions League Final in Istanbul, Turkey
#Istanbul to host 2021 #UEFA Champions League final instead of 2020https://t.co/h0jO0RCSEi pic.twitter.com/IMh0nZOCjf

— Hürriyet Daily News (@HDNER) June 17, 2020
Three days later, it's the Champions League Final in Istanbul. European football's showpiece match has been without Spanish representation in the last two seasons, but LaLiga teams did get their hands on the trophy in each of the previous five years. Defending champions Bayern will be bidding to defend their crown while a strong Premier League contingent will also be out to make it all the way to Istanbul.
30th May 2021 – LaLiga SmartBank Final Matchday
The Segunda Division is scheduled to finish a week after the top flight. Espanyol, Leganes and Mallorca are all aiming to bounce back to the top flight at the first attempt and all end the season with away fixtures. There is plenty of competition though in the second tier with a host of big clubs hungry to secure one of the two automatic promotion places.
The play-offs are set to start just three days after the final fixtures of the regular season.
11th June 2021 – Euros Start
Euro 2020, and it is still officially going to be known as Euro 2020, will start just 12 days after the Champions League Final and 18 days after the final matchday in LaLiga. The tournament is being played at venues all over Europe and will follow the same schedule that was originally intended, just a year later.
San Mames in Bilbao will host four matches, including Spain's opening game against Sweden on 14th June.
20th June 2021 – LaLiga SmartBank Play-Off Final 2nd Leg
The Spanish domestic season will officially end on Sunday 20th June with the 2nd Leg of the Play-Off Final when the identity of the third team to win promotion to the top flight will be known.
---
To be Scheduled: 2020 Copa del Rey Final
---
The 2020 Copa del Rey final was meant to take place on April 18.

Athletic Club and Real Sociedad have agreed to ask the Spanish football federation to hold back their postponed final until their fans are allowed to attend pic.twitter.com/ixnxv0wdtP

— B/R Football (@brfootball) May 4, 2020
We also have the small matter of the 2020 Copa del Rey Final still to fit in. Basque rivals Athletic Club and Real Sociedad were due to meet in the Final for the first time ever last season but it was postponed indefinitely due to COVID-19. Both clubs agreed to sacrifice a potential European place and wait until a point in which fans would be able to safely attend the game.
When or where that will be, we still don't know but the Spanish football federation will be keen to get the game played before the end of this calendar year if possible to avoid having to play the bulk of the 2020/21 competition before the 2019/20 winner has even been decided.
The latest hope is that it may be possible to play the game around Christmas time, but free slots on the calendar are pretty limited and ultimately it will largely depend on what happens with the virus and how soon fans are allowed back into stadiums.
---
LaLiga Derby Dates
---
There are a whole host of local dust-ups to look forward to. These are the dates for the big derby clashes in Valencia, Seville, Madrid and the Basque Country.
12/13th September 2020 – Valencia vs Levante
12th/13th December 2020 – Real Madrid vs Atletico Madrid
29th/30th December 2020 – Athletic Club vs Real Sociedad
2nd/3rd January 2021 – Real Betis vs Sevilla
6th/7th March 2021 – Atletico Madrid vs Real Madrid
13th/14th March 2021 – Levante vs Valencia
13th/14th March 2021 – Sevilla vs Real Betis
3rd/4th April 2021 – Real Sociedad vs Athletic Club
There will also be regional derbies virtually every weekend with 5 Basque teams (including Osasuna), 4 Andalusian teams and 4 teams from the Valencian Community in LaLiga this season.
We will have LaLiga match previews for every single game in the 2020/21 Spanish top flight season.
---
Follow LaLiga Expert on Twitter | Like us on Facebook
---