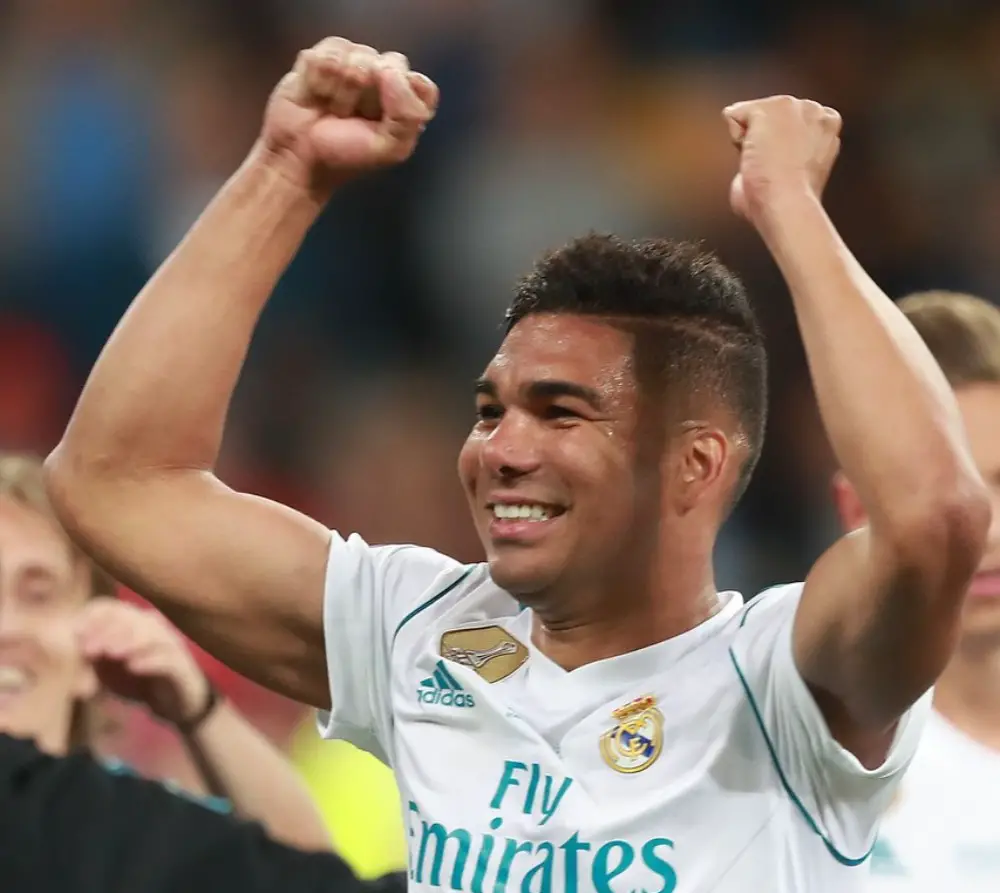 A number of defensive stars left La Liga behind in the summer. Atleti's trusty back four, which had played such a key role in their success throughout the Diego Simeone era, was ripped apart while the impressive Rodri also moved on. There were also major defensive changes at several other clubs with Villarreal another to start this campaign with an almost completely new-look back four.
13 games into the 2019/20 season, we're going to have a look at some of the key defensive stats and see which players are making big contributions for their teams this term in La Liga.
For this season's stats, we have only included players who have made a minimum of 5 appearances so far. The figures from last season only feature players to have been involved in at least 50% of their team's games.
The data comes from whoscored.
---
Tackling
1. Casemiro, Real Madrid – 3.7 (tackles per game)
2. Fran Gámez, Mallorca – 3.6
3. Mubarak Wakaso, Alaves – 3.2
4. Ruben Alcaraz, Real Valladolid – 3
5. Victor Sanchez, Espanyol – 3
Last season's top five: 1. Nacho (Valladolid) 2. Rodri 3. Casemiro 4. Santiago Caseres 5. Ruben Alcaraz
Fran Gámez: "El fichaje por el Mallorca cambió mi vida" https://t.co/1RnOd6ZXbS pic.twitter.com/4RiJt8v9Qd

— mallorcaesports (@mallorcaesports) October 23, 2019
Casemiro leads the way for tackles with the Brazilian certainly among Real Madrid's most impressive performers so far in the 2019/20 season. He has an average 0.7 tackles per game more than last term when Real Valladolid defender Nacho edged out four defensive midfielders to top the tackling charts.
This time around, the only defender to feature is Mallorca's Fran Gámez. The 28 year old has only made 5 appearances so far this term but his team have taken 7 points from 5 games when he has played. That includes the 1-0 win over Real Madrid when Gámez played a starring role.
Mubarak Wakaso and Victor Sanchez have both been doing solid jobs for their teams while Ruben Alcaraz again features in the top five.
---
Interceptions
1. Casemiro, Real Madrid – 2.4 (interceptions per game)
2. Dimitrios Siovas, Leganes – 2
3. Fran Gámez, Mallorca – 2
4. Geoffrey Kondogbia, Valencia – 2
5. Nacho Monreal, Real Sociedad – 2
Athletic Club's Yeray Alvarez has also averaged 2 interceptions per game.
Last season's top five: 1. Gabriel Paulista 2. Djené Dakonam 3. Unai Bustinza 4. Yeray Álvarez 5. José Giménez
Real Madrid's Casemiro is again the cream of the crop when it comes to interceptions, easily beating his closest rivals in this category. The Brazilian may not always make the headlines but these kind of numbers highlight just how important he is to Real Madrid and how badly his absence might be felt with no natural back-ups in the squad.
Casemiro's compatriot Fernando narrowly misses out on the top five with 1.9 interceptions per game for Sevilla but Fran Gámez features again which is some going for a 28 year old who had never played at a higher level than the Segunda B prior to last season. Nacho Monreal has also impressed for Real Sociedad since his return to the Spanish top flight but there has been a bit of a fall away from some of the interceptions kings of last term. Getafe's Djené is only averaging 1.2 interceptions per game this season compared to 2.2 as Getafe clinched European qualification in 2018/19.
Read more – LLE on the Road – Dizzy New Heights in Granada
---
Clearances
1. Zouhair Feddal, Real Betis – 5.8 (clearances per game)
2. Rúben Vezo, Levante – 5.8
3. Stefan Savic, Atletico Madrid – 5.5
4. Raúl Albiol, Villarreal – 5.5
5. Kenneth Omeruo, Leganes – 5.3
Last season's top five: 1. Leandro Cabrera 2. Bernardo Espinosa 3. Victor Laguardia 4. Abdoulaye Ba 5. José Giménez
DON ZOUHAIR FEDDAL. ? ⚽️5️⃣ pic.twitter.com/oyFS9vjEmg

— Alberto (@_ALB3RT0) July 28, 2018
In the clearance stakes, a couple of more surprising names feature near the top. Neither Levante nor Real Betis are particularly known for their defensive qualities but Zouhair Feddal and Rúben Vezo lead the league for clearances so far this term.
Centre-backs Stefan Savic, Raúl Albiol and Kenneth Omeruo complete the top five which is completely different from last season when Getafe's Leandro Cabrera averaged an incredible 6.7 clearances per game across the course of the campaign.
---
Blocks
1. Gabriel Paulista, Valencia – 1 (blocks per game)
2. Rúben Vezo, Levante – 1
3. Ezequiel Garay, Valencia – 0.9
4. Marc Bartra, Betis – 0.9
5. Aissa Mandi, Betis – 0.9
Antonio Raillo and Rodrigo Ely are both also averaging 0.9 blocks per game.
Last season's top five: 1. Simon Kjaer 2. Rober Pier 3. Bernardo Espinosa 4. Ezequiel Garay 5. Clement Lenglet
Two Valencia players and two Betis players feature in the top five for blocks per game. Ezequiel Garay has shone in this category for a number of years but you suspect the fact Betis' defenders are needing to make lots of blocks may be as much linked to their vulnerabilities in midfield than it is necessarily due to outstanding defending.
Levante's Rúben Vezo is another man enjoying a good season, according to these stats at least. No player has made more clearances or more blocks than the Portuguese defender so far this season.
Read more – La Liga 2019/20 Passing Stats 
---
Aerial Duels Won (Defenders Only)
1. Bernardo Espinosa, Espanyol – 5.2 (duels per game)
2. David Garcia, Osasuna – 4.7
3. Íñigo Martínez, Athletic Club – 3.6
4. Jules Koundé, Sevilla – 3.6
5. Iván Ramis, Eibar – 3.6
Last season's top five: 1. Rodrigo Ely 2. Leandro Cabrera 3. Guillermo Maripan 4. Bernardo Espinosa 5. Martin Mantovani
COMUNICADO OFICIAL | #Osasuna renueva a David García hasta el 2021.#DavidGarcía2021 #SueñaEnRojo

▶️ https://t.co/49qo2TyPtB pic.twitter.com/4ORh3xFo3c

— C. A. OSASUNA (@CAOsasuna) May 28, 2019
The player to have won the most aerial duels so far this season in La Liga is Alaves forward Joselu with a huge 8.1 per game, almost 2 more on average than any other player in the division. However in terms of defenders, it's Bernardo Espinosa who leads the way with the Espanyol man continuing the aerial dominance he displayed at Girona last term.
Jules Koundé has certainly impressed in the heart of the Sevilla defence in his first season in La Liga while David Garcia's figures also stand out. He averaged just 2.2 aerial duels won per game during Osasuna's last season at this level but has more than doubled that figure so far this term.
---