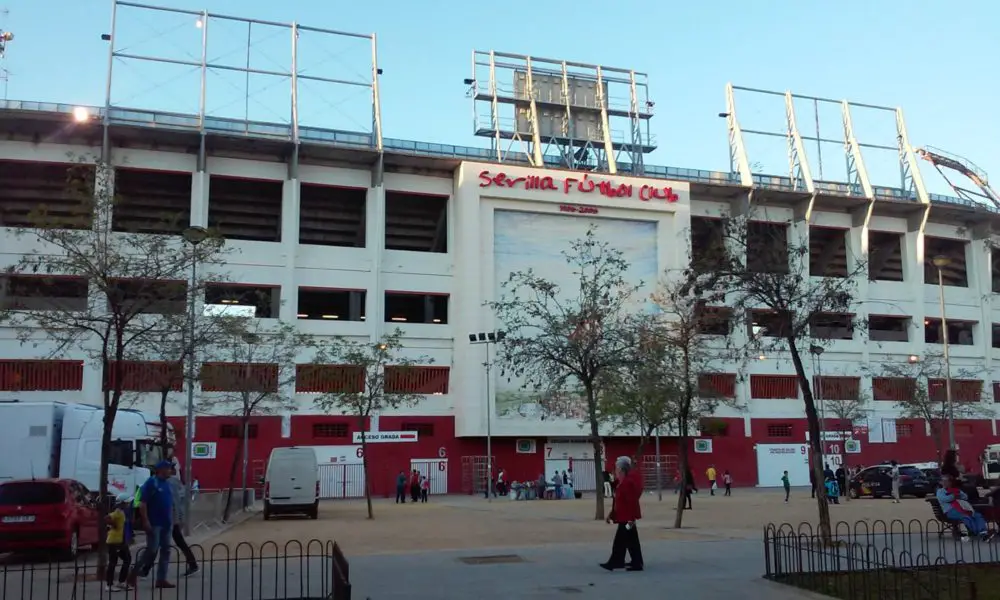 The Andalusian spring is the best time to visit Seville. Temperatures are rising but Europe's hottest city hasn't yet been engulfed by the unbearable heat that overwhelms it each summer. The scent of orange blossoms fills the air and the city comes alive during both Semana Santa and the Feria de Abril, two of the most important events on the Spanish calendar.
However the spring of 2019 has been one to forget for the city's two football clubs. Both went into February with dreams of European glory and realistic shots at silverware to cap seasons that had started brightly.
A String of Cup Exits
? Missed chances mean Sevilla must win in Prague (2-2) ⚽️?

The report on #SevillaFCSlavia ➡️ https://t.co/Eg3sioLPvu#UEL #vamosmiSevilla#WeareSevilla pic.twitter.com/gPrVxmU2Ip

— Sevilla FC (@SevillaFC_ENG) March 7, 2019
Those dreams quickly turned sour though as Betis conceded three times home and away to surprisingly crash out of the Europa League against Rennes, having previously won a group featuring Milan and Olympiacos. Sevilla then leaked four in Prague to exit in dramatic fashion in the next round. Both clubs felt hard done-by but a city that does the Europa League like no other, was left without representation in the Quarter-Finals with Sevilla's absurd unbeaten run in knockout ties in the competition finally coming to an end.
The Copa del Rey was equally cruel. Sevilla spurned a 2-0 Quarter-Final 1st Leg advantage to crash out in emphatic fashion at Camp Nou. Betis, dreaming of a home Final at the Benito Villamarin, reached the last four and also led 2-0 at one stage in their Semi-Final tie with Valencia. However just seven days on from defeat to Rennes, they suffered another painful cup exit at the Mestalla.
Three days after that, it started. 'Quique Vete Ya, Quique Vete Ya!' rang out around the Benito Villamarin as Betis sank to a league defeat to Getafe. It's more than just results that have led to Betis fans turning against the man who led them to an excellent 6th place finish last term but 11 defeats in 19 league games so far in 2019 has only added weight to those cries, which from the outside at least were initially quite baffling.
Stick or Twist?
@QSetien #quiqueveteya #RealBetisEspanyol pic.twitter.com/vjKmxEjJPb

— SIEMPRE BETIS. ??? (@JosemyT27) April 29, 2019
Betis, so far, have stuck with Setien. However on the other side of the city, Pablo Machin didn't have such fortune with the former Girona boss dismissed hours after Sevilla's late European exit. As many clubs in Spain have done this year at times of crisis, they looked to the past for a solution. Director of Football Joaquín Caparrós effectively hired himself to again take on a caretaker coaching role until the end of the season while Monchi, the mastermind of so much of their recent success, returned as Sporting Director after a difficult time in Rome.
Initially, things picked up. Sevilla won four of their first six games under Caparrós but the two defeats came against Getafe and Valencia, their two direct rivals for 4th place. With no distractions, the ball was still basically in Sevilla's court heading into their home game with Leganes last Friday but a disastrous 3-0 defeat, against a bottom half side with nothing really to play for, has to rank amongst the most damaging losses they've suffered at the fortress Sanchez-Pizjuan in recent years.
Read more – How Barcelona won the 2018/19 Title
Flashes of Life
13.04.2019 #LaLiga
.#Sevilla #Fútbol Club – #Real #Betis #Balompié 3:2
.#ElGranDerbi #Derbisieger #BirisNorte #Antifa #Ultras #DiaDeBetis #SánchezPizjuán #Groundhopping pic.twitter.com/8uJThZ75F2

— surfisurfsurf (@surfisurfsurf) April 14, 2019
Even during these troubled times, there have been moments where both sides have showcased their qualities and shown glimpses of what could yet be a much brighter near future. Real Betis completed the permanent signing of Giovani Lo Celso in April, a major coup for the club. Sevilla fans meanwhile will argue that the return of Monchi is bigger than the arrival of any player or coach. The Seville derby was as magnificent as ever but just three weeks on from Sevilla's 3-2 win in a high tempo, high quality game, there is doom and gloom again on both sides of a city which celebrates its famous Feria this week.
Talk to Pablo Machin or Quique Setien and they may feel as though they've merely become victims of their own successes. Betis surprised everyone with their top six finish last season. It was an outcome that not only brought more football but also raised expectation levels to a point that ultimately hasn't been met this term.
Sevilla meanwhile were flying earlier in the season and topped the table after thirteen matches. Having started out in Europa League qualifying in July, there was always the sense that the sheer volume of games would eventually catch up with them. That dip, when it inevitably came, was more severe than many expected but it's hard to not come to the conclusion that Sevilla would have remained comfortably inside the top four and Machin would still most likely be in a job had they exited Europe in the qualifying rounds as opposed to the last sixteen.
Machin abode by the club's policy of prioritising the cups but ultimately paid the price with his job. It's a similar story with Quique Setien who now looks set to be replaced this summer having failed to juggle league and cup commitments as well as he might have. Setien hasn't helped his cause with some ill-judged comments to the press and there was always the sense that his demeanour not to mention obsession with possession football wasn't quite the natural fit for Betis.
Read more – Dependencia in La Liga – Who is the most important player?
What comes next?
Julen Lopetegui, who was sacked by Real Madrid in October, is among the favorites to be the next Real Betis manager.
(Source: AS) #Transfers pic.twitter.com/Cgfamrd4Qa

— Hala Transfer News (@HalaTransfers) May 6, 2019
Assuming they do decide to part ways this summer, the Betis hierarchy will have some very big decisions to make. Having assembled a squad to fit the Setien way, it would surely be foolish to totally tear up the playbook and appoint Mauricio Pellegrino for example. However appointing a like-for-like would pose the question – why change it at all if not to merely appease the masses who fill the Benito Villamarin each week.
A coach with attacking tendencies but a slightly quicker, more purposeful style might just fit the bill. Pablo Machin anyone?
It's not quite as ridiculous as it sounds. Machin is unlikely to hold any loyalties to Sevilla after his hasty and some would say unfair dismissal. When he is finally replaced, it probably won't be Quique Setien who may spend much of the next twelve months waiting for a call from Barcelona if his relatively open flirtations with the Catalan giants are anything to go by.
His tenure in the green and white half of Seville will be perceived in many different ways but if and when he leaves the club, it will be one that is no longer living in the shadows of their city neighbours. Betis and Sevilla may end up being the biggest two coaching vacancies in Spain this summer and it'll be fascinating to see what direction they opt to go in with the likes of Julen Lopetegui and Abelardo set to lead the list of available candidates.
---
Article via Mark Sochon – Contact: marksochon(at)hotmail.co.uk | @marksoc1 on Twitter